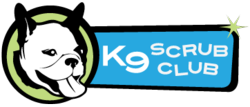 Not your average neighborhood dog wash - Not your average online dog store.
San Francisco, CA (PRWEB) August 04, 2012
Located in the Noe Valley neighborhood of San Francisco, CA, K9 Scrub Club hosts a variety of monthly events that give dogs and their human companions a fun place to hang out, shop and socialize with other canine-friendly folks. This San Francisco dog wash is a fun, new take on dog washing and shopping for your pet and has gained a popular following as they continue to grow each month.
Check out the full list of events below or by visiting their website at k9scrubclub.com.
Tasty Tuesdays – Every Tuesday, All Day
K9 Scrub Club offers local, organic and wholesome dog treats made right here in the SF Bay Area! Stop by each Tuesday in August – they'll be featuring a new, locally-made treat for demonstration, sample and purchase.
Puppy Social – Every Tuesday, 7:30pm to 8:30pm
San Francisco puppy socials have moved to Tuesday nights and they're now free. A new focus each week to help get your puppy socialized.
K9 Club Night – Every Other Thursday – 6pm to 9pm
Promoted as a fun, social, shopping experience. August 9th and 23rd – they're turning the club into a theater for customers and their pups. Refreshments, shopping and a different dog-themed movie each night.
Meet Your New Best Friend – An Online Adoption Blog with 7x7 Magazine
K9 Scrub Club has teamed up with 7x7 Magazine to host a weekly adoption blog featuring local rescues that they partner with and new adoptable dogs and cats each week from great local rescues like San Francisco-based Loup Garou and Muttville. The blog can be viewed on 7x7.com/pets
Loup Garou Adoption Event – August 18th – 11:30am to 3pm
Loup Garou will be at their store with adoptable dogs and cats. Stop by and check out some truly amazing dogs and help support a great rescue with a great cause – you might just find the perfect addition to your family.
National Dog Day – August 26th – All Day
They'll be celebrating all day long in honor of canine companions everywhere. Stop by for some fun, refreshments and free stuff to celebrate the fearless, wonderful, lovable & loyal dog.
K9 Scrub Club is located at 1734 Church Street in the Noe Valley neighborhood of San Francisco.