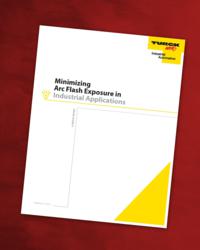 Minneapolis, MN (PRWEB) August 06, 2012
TURCK announces its latest white paper, Minimizing Arc Flash Exposure in Industrial Applications, is now available for immediate download at http://www.askturck.com or on the TURCK website. Providing useful information on arc flash hazards, including risks, consequences and causes, the white paper assists readers in protecting against arc flash exposure in their industrial applications.
Industrial environments present fire hazards that require proactive safety measures to minimize potential risk. Arc flash hazards cause thousands of injuries a year, resulting in serious burns and in some cases, even death. Electrical accidents can contribute significant costs to businesses in lost property, injuries and loss of life. With today's dependence on industrial networking, which requires frequent interaction with energized equipment, the risk of igniting an arc flash could increase significantly.
To provide a better understanding of arc flash and solutions available to operators, this white paper will:
-Define arc flash
-Detail the risks, consequences and causes associated with arc flash
-Provide a solution to minimize arc flash exposure
Download the complimentary white paper to learn more.
TURCK is an industry leader providing superior quality sensing, connectivity and network products to help manufacturers improve their automated processes. For other TURCK product or technical information, contact:
1-800-544-7769 • http://www.turck.us • usa(at)turck(dot)com