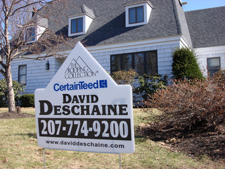 Metal Roofing In Maine With Dave Deschaine
South Portland , Maine (PRWEB) August 03, 2012
David Deschaine Roofing, a leading roofing contractor in Southern Maine, recently announced that they have partnered with Everlast Roofing, a quality metal roofing system provider, to offer a brand new product line. The distinctive Everseam metal roofing panel is an architectural panel that is part of a new interlocking conceal fastener metal roofing system. In an increased effort to offer Maine home owners the most superior metal roofing products on the market, David Deschaine chose the Everseam panels as the best way to help shed the snow and ice and help his clients protect their largest investment.
"If you want to protect your home against water absorption, wind resistance, fire resistance and most importantly the weight of traditional roofing systems, the Everlast name says it all," said owner David Deschaine. "It will last forever and give you the performance, durability, and strength that will increase the value of your home and provide years of worry free maintenance."
Metal Roofing In Maine With Dave Deschaine The Everseam panel has the elegant look of a traditional style standing seam roof, with the strength and durability of high strength 24-gauge steel.Maine People Do Not Want To Shovel Their Roofs Anymore!
It's Time For The Metal To Meet The Roof
The integral locking seam is held in place by concealed metal clips, and is installed over a waterproof solid substrate. The absence of exposed fasteners and the weather-tight side lap, allow for applications on roof pitches as low as a 3:12 and creates an elegant and traditional look.
"The Everseam metal roofing panel from Everlast gives your home a designer look, and is the best choice for residential roofing," Mr. Deschaine continued. "This is the best metal roofing panel I have ever seen or worked with."
The new selection of metal roofing panels are made in Bridgton Maine, and the product can be factory shipped usually within a week. The panels are being sold through Applicator Sales And Service, Inc. located in Portland Maine, which caters only to contractors and building professionals. For complete information about Everseam metal roofing panels by Everlast Roofing and all of the other quality David Deschaine Roofing products and services, visit one of its websites, its Facebook page or call (207) 774-9300.
About the company:
David Deschaine Roofing and Vinyl Siding Company has been offering professional and trusted home improvement services for over 25 years. With thousands of satisfied customers throughout Southern and Central Maine, David Deschaine has the most trusted and recognizable name in the industry. Servicing ME, Portland and Lewiston-Auburn areas. His company offers 5 Star Coverage to customers, and with 25 years experience there is a benefit of a Workmanship warranty. For more information visit their website at http://www.daviddeschaine.com.