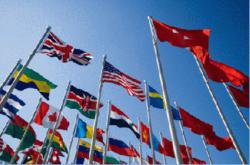 Personally, I like older teachers as they bring balance and experience.
Hyannis, MA (PRWEB) August 03, 2012
Mark Twain once said, "Age is an issue of mind over matter. If you don't mind, it doesn't matter." The same can be said for teaching overseas – if a school head doesn't mind it doesn't matter.
According to a recent survey released by The International Educator (TIE), which asked about hiring restrictions at international schools, over 65% of the 176 school heads interviewed reported that their school's host country does not have age restrictions for issuing a work visa. Of the 28% of respondents who did report restrictions by their host country, the mandatory cut-off was almost equally split between ages 60 and 65.
When asked the more sensitive question of whether in the absence of a mandatory age restriction by the host country your school has a policy or practice of limiting or restricting the age of new hires, over three-fourths (77%) responded "No."
This is encouraging news for older teachers seeking a second career and the excitement of living and working overseas. "We have many candidates who are very interested in teaching overseas, but they have concerns about their ability to get hired if they're over fifty," says Cynthia Nagrath, media and client relations manager of TIE. "This survey and its results, gives us data that allow us to not only reassure our candidates, but to encourage them to go for it," says Nagrath.
In fact, the survey revealed that some school heads and recruiters are quite eager to hire older candidates with extensive experience and the wisdom that can only come with age. "While the job search over age sixty is challenging, teachers can definitely find positions, particularly at the high school level where rigorous academic courses require experience. Experienced administrators are also in a good position if health is not an issue," one school head explained.
"Personally, I like older teachers as they bring balance and experience," said an American school head in Latin America. "However, they must not be, teachers who are there as a retirement thing." The issue of balance was a recurring theme among respondents as this school head explains: "Good Schools need a balance of age, wisdom and experience as well as youth, energy, and gender."
Although the wisdom factor is a key advantage for older candidates many school heads were quick to point out that older teachers should not rest on their laurels and be open to learning and new ideas. "Keep your attitude and manner young. Have something in your resume that sets you apart from others. This sentiment was echoed by another headmaster, "Make sure you are engaging in PD (professional development) based on current research and current trends in education, and that you are changing what you do in the classroom based on what you are learning in such PD experiences. Also make sure you come across as energetic and open to change."
Some school heads did express concern over health issues for the older candidate and the associated costs of insuring them: "Health and health insurance are big issues. Disability coverage is not allowed over 60 and health insurance skyrockets," reports one school head.
Another school director from an African country agrees, "I think that an older candidate must demonstrate physical fitness...I really feel that that is the main issue. A fit, active (coaching?) older candidate would have a good chance at my school."
The International Educator, a leading resource for teachers looking for jobs at overseas schools has recently mandated that schools indicate if there is an age requirement when filling out their job posting form on their website, tieonline.com. "Having this information upfront in the job search gives the candidates the information he or she needs and avoids wasting time on the part of the candidate and the school hiring official," says Forrest Broman, President of TIE. "We value our older subscribers and we know schools do too. We want to help both parties get the best possible match," says Broman.
"In my 25 years as an international school superintendent I hired and encountered many teachers over 65, or even 70, who were among our best instructors,'" Broman added.
For teachers who consider themselves older, take heart, one school head declared that "Sixty is the new forty!" and another said "Age doesn't matter at all – go for it!"
Encouraging words at any age.
The International Educator (TIE), located in Hyannis, MA, is a non-profit organization that for 25 years has been dedicated to developing links among teachers and the extensive American and international schools network worldwide. TIE publishes a quarterly newspaper featuring the latest in international school news and developments for K-12 educators around the world. TIE's website, http://www.tieonline.com, offers the widest selection of K-12 teaching and administrative jobs available anywhere in the world.