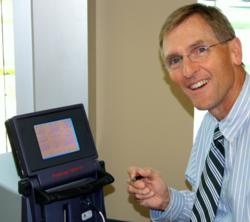 Richardson, TX (PRWEB) August 03, 2012
Kerry M. Goad, DDS, is now offering the Laser Assisted New Attachment Procedure to patients suffering from gum disease. Gum or periodontal disease is a problem that affects millions of adults in America each year. Unfortunately, many people go untreated, and this can lead to even more serious health issues such as kidney disease, pancreatic cancer or diabetes. With LANAP, an advanced method of periodontal disease treatment, Dr. Goad hopes that more people will be willing to seek treatment.
Dr. Goad uses the PerioLase MVP-7 laser, which is cleared by the FDA for the treatment of gum disease. This laser has a fiber optic top and is designed to be extremely selective. Dr. Goad will use a probe to determine the depth of the pockets between the gums and the teeth where bacteria reside. The laser is used to eradicate the bacteria and remove any diseased gum tissue in the area. The healthy tissue is not damaged or removed. Ultrasonic scrubbers are used to remove tartar or calculus from the teeth that are exposed by the procedure. Next, the healthy tissue is compacted and stimulated to attach to the tooth. The bone is also stimulated for regeneration.
The entire procedure causes little discomfort or pain and is not very invasive. There are no scalpels used and there is no need for sutures. The laser stimulates clotting so that the gums begin attaching to the teeth almost immediately. This means that the healing and recovery time is very short, and many people even return to normal activities the same day of the procedure. People who did not think they had time for periodontal disease treatment may choose LANAP because there is very little downtime associated with this procedure.
Gum disease can lead to gum recession, lost teeth and bone deterioration. By seeking treatment, these problems, as well as other serious health problems, can be avoided. Patients are evaluated on an individual basis to determine whether or not they are good candidates for the LANAP procedure. People who have periodontal disease require treatment, and the sooner treatment is received, the better the results. For more information about the LANAP procedure, visit dallasgumsurgery.com.
Goad Dental is a general practice offering patients personalized dental care for Richardson, TX. Dr. Kerry M. Goad received his Doctor of Dental Surgery (DDS) from Baylor College of Dentistry in Dallas, Texas. He completed advanced training in restorative dentistry at the L. D. Pankey Institute in Key Biscayne, Florida, and is part of one percent of dental professionals providing the most recent FDA cleared laser procedure for gum disease and periodontal treatment. To learn more about Goad Dental and their dental services visit their website at http://www.dallasgumsurgery.com and call (972) 690-6653.