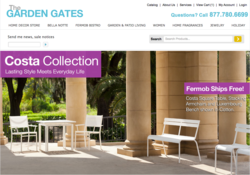 Recognizing the changing needs of our customers, our rebranding became intuitive. Chad E. Harris
Metairie, LA (PRWEB) August 06, 2012
The Garden Gates, a twelve year old company that began as a garden center, announces the launch of the lifestyle company TheGardenGates.com.
After watching its customer base, suppliers and web presence evolve, The Garden Gates' owners Chad and Beth Harris along with the development team have decided to take business to a national market through TheGardenGates.com lifestyle boutique. The company originally began as a garden center and landscaping company, but quickly expanded into home decor, women's clothing, luxury bedding, jewelry, specialty holiday and more.
Bella Notte Linens, a designer bedding brand carried by The Garden Gates, announced this summer the addition of five new fabric collections and two new colors, bringing their bedding collections to 28 and color palette to 17. Bella Notte Linens uses eco-friendly processes to produce materials and dye them to create designer linens that are truly eco-chic. TheGardenGates.com is a leading retailer of Bella Notte Linens, a luxury brand of bedding, baby bedding and home linens that are custom made upon order.
Campania International paves the way in cast stone planters, garden fountains and outdoor statuary and also recently announced the addition of many products in its line. The wide selection of styles manufactured by Campania International and sold by The Garden Gates are high quality, American made and European inspired designs for the ultimate in outdoor decor. The combination of traditional and contemporary pieces from Campania have been favored by The Garden Gates' customers for years thanks to the multiple finish options and variety of products. From classic St. Francis statues to modern planter designs and more, The Garden Gates' carries the finest of Campania International.
The Garden Gates is also a premier retailer of Fermob outdoor furniture and new lounge trends. Fermob outdoor lounge is a French company on a mission to create furniture that is both beautiful and comfortable. Fermob is the perfect match for The Garden Gates thanks to its high design and ability to work with almost any decor. Sleek and modern outdoor lounge meets classic bistro sets for a custom and personal approach to patio furniture. Fermob outdoor lounge comes in 23 colors, and the full line can be found at http://www.TheGardenGates.com
Each year, The Garden Gates holds a number of events for the holiday season. The annual holiday fundraiser donates a portion of sales to local schools and organizations, and the Metairie Road Business Association holds its yearly tree lighting event at The Garden Gates' store location. The Garden Gates is also a leader in Christmas tree delivery as well as pre-lit Christmas trees available for order online, over the phone and in the store. Look for big announcements soon about the upcoming holiday season.
About The Garden Gates:
The Garden Gates and http://www.TheGardenGates.com is where lasting style meets everday life. Both the online lifestyle boutique and the Old Metairie storefront are filled with the founders' and co-owners' findings from around the world for a unique experience in home and garden decor as well as clothing, jewelry, baby products, holiday decor and many specialty products.
For more information about this topic or to schedule an interview, please contact Alyse Mouledoux at (504) 833-6699 or email her at alyse(at)thegardengates(dot)com.