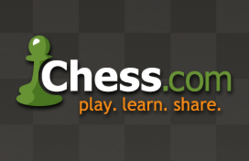 It's not every day that the average chess lover gets to match wits with a World Champion...
Los Angeles, CA (PRWEB) August 03, 2012
World Champion Viswanathan Anand will play a chess game against "the world," an international team of chess enthusiasts from around the globe, on August 13th 2012 at 10:30 AM Pacific / 1:30 PM Eastern. Anyone with an Internet connection can partake in this duel between individual genius and "the wisdom of crowds."
Anand is scheduled to play a number of exhibition games on August 13th, against on-site participants at the Metro Chess Invitational Chess Camp in Los Angeles.
However, one of the exhibition boards is different: It will belong to the Chess.com online chess server, allowing players from all over the world to vote online for each move. Anand will play the white pieces, and playing black, the World Team will have five minutes to vote on each move. On each turn, a human on-site relayer will play the move that garnered the most votes on the actual board, across from the Champion.
The event will be covered live via streaming video at the Chess.com web-site. Registration for the event is available online at Chess.com.