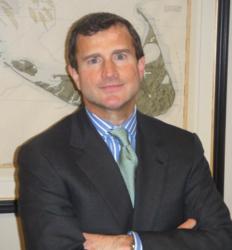 "The media, sports, entertainment, online and philanthropic worlds have lost a giant in Jord Poster," said Charity Partners CEO Jay Whitehead.
Boston, MA (PRWEB) August 02, 2012
Jord Poster, founder and Chairman of Boston-based Charity Partners and a member of the founding team at Priceline.com, passed away last evening after a yearlong battle with non-smoker's lung cancer. Jord was 56 years old.
"Finding the words to truly express the impact Jord had on our lives is nearly impossible," said sister Elisa Shannon. "He was a generous soul and a doting father, with a spirited sense of humor, and a fierce loyalty to his family and friends."
"The media, sports, entertainment, online and philanthropic worlds have lost a giant in Jord Poster," said Charity Partners CEO Jay Whitehead. "He gave voice to some modern marvels, such as Priceline.com's name-your-own-price Negotiator character played by William Shatner, and Charity Partners' concept that you can create a perpetual charitable fundraising machine by turning buying into giving."
A web-era marketing and philanthropic visionary, Jord Poster founded Charity Partners in 2005 to create the first and largest free charitable fundraising platform. Charity Partners' first offering, Tickets-for-Charity®, pioneered the concept of using a portion of proceeds from the sale of pro sports and concert tickets to fund charities.
After his diagnosis with stage four lung cancer in Fall of 2011, Jord Poster tirelessly dedicated himself to putting his company in a position to fulfill his charity fundraising legacy. In April 2012, Jord Poster appointed successful media and technology executive Jay Whitehead to succeed him as Charity Partners CEO. Whitehead joins Charity Partners' strong team of mission-driven professionals dedicated to fulfilling the company's promise by engaging the world's most respected charities, top names in sports and entertainment and best-of-class corporations to create real and sustainable social change.
Since his passing last night, praise for Jord has poured in from friends around the entertainment, philanthropy, business and online worlds. Scott Case, a Priceline.com colleague and CEO of Startup America said, "Jord had several unique gifts. Among them was his ability to perform at his best under pressure. Another was that he was a fantastic friend to many." Cristina Courey Duggan, Chief Operating Officer and co-founder of Charity Partners, said, "Jord was able to dream in a way that made those around him believe in what others deemed impossible. His vision of making charitable giving a seamless and natural part of people's everyday lives has created a revolution in the ticket market. We who were part of his life will forever share his dream."
Prior to joining Priceline.com in 1997, Jord Poster was Division President of American Express VIP Service, an alliance between Synapse Group (a Time Warner company) and American Express. And before that, Jord was an SVP at Hill, Holliday a Boston-based advertising and marketing agency. Jord attended Cornell University, and was born in 1956 in Boston. Jord leaves behind a loving family including his beloved two sons, Ben and Will, and a very large circle of friends. Funeral plans are yet to be announced by the family.
Media Contact:
Carrol Van Stone, Visibility Bookings, visibilitybook(at)aol(dot)com, 304-671-0244