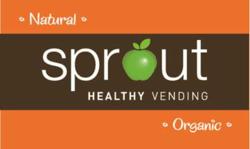 Irvine, California (PRWEB) August 07, 2012
After leaving her most recent employment to care for her terminally ill mother, Paim wanted to do something new and was intrigued by the growing trend in healthy vending all over the nation.
With her family's support, Paim interviewed several business opportunities, "I chose Sprout Healthy Vending for their exceptional support services and product selection," Paim shares. "Also, everyone I have encountered thus far at Sprout has been helpful, friendly, and professional."
Paim continues, "Sprout Healthy Vending offers a fresh healthy alternative to traditional vending machine snacks together with the convenience of state of the art vending machine technology."
Paim understands the increasing need for healthier options in today's society. She also knows and can relate to the fast paced tempo of the every day working parent.
"With so much in the news about our country's obesity epidemic, people want quick, healthy and convenient snack foods. When you are constantly on the go and have children to attend to, you need convenience and you want healthy. Sprout has both."
It seems as though Paim is onto something. Her community has already given her great feedback showing her there is a definite need for a healthy switch. "The overwhelming response from potential locations has been extremely positive already. I am excited to get started and to be able to offer these healthier options to everyone knowing it will benefit many," Paim states.
Co-Founder Chris Wyland echoes the sentiment, "Today there is an increasing demand for healthy products. People are realizing more and more how important it is to maintain a healthy lifestyle. Not only for ourselves but also for our future generations. That is why Sprout Healthy Vending is seen all over the nation including towns like Pebble Beach, California thanks to Christine and her family."
About Sprout Healthy Vending
Sprout Healthy Vending provides state-of-the-art vending technology, thousands of healthy and organic products and turnkey customer solutions for regional operators. Currently, Sprout Healthy Vending has over 70 operators in 40 markets in the U.S. with 1,000 individual locations projected by the end of 2012. To learn more about the company, locations and products please visit http://www.sprouthealthyvending.com or call (800) 450-7648.