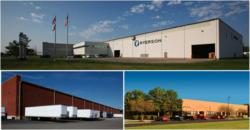 Columbus, OH (PRWEB) August 04, 2012
Hackman Capital of Los Angeles announced today its purchase of a significant industrial real estate portfolio from Schottenstein Property Group. The portfolio, acquired through an affiliate of the privately-held, asset-based investment firm, contains 45 industrial and flex buildings and totals 2,804,805 square feet. Forty-four of the facilities are located in the Columbus metropolitan area; one is located in Ruther Glen, Virginia. The companies closed the transaction on Thursday, July 26.
"We are absolutely thrilled with the acquisition," said Columbus native Michael Hackman, the company's founder and CEO. "Columbus is my hometown, and we're excited the Schottensteins have given us the opportunity to expand our presence here." The Schottenstein portfolio is Hackman Capital's second venture in Columbus.
According to Hackman, the portfolio is not just a significant acquisition for the firm, it also represents the next chapter in a bi-generational family story.
"I had the privilege of knowing the late Jerome Schottenstein, who was a life-long friend of my father's. I went to Bexley High School with Jerome's children, who have since remained my friends," Hackman recounted. "These properties offer our company great product in a strong market—but they offer me, personally, the chance to recognize a family whose belief in Columbus has helped make the city what it is today. That's a legacy to which I'd like to contribute," Hackman continued.
Hackman was born and raised in Columbus and was graduated from The Ohio State University, before moving to Los Angeles, and eventually founding Hackman Capital in 1986. The firm will oversee the new assets, along with its Midwest operations, from its Columbus office.
"Now that the transaction is complete, we gladly accept the baton and look forward to strengthening our foundation here," Hackman said.
More Information about Hackman Capital
Founded in 1986 and headquartered in Los Angeles, Hackman Capital is a privately held, asset-based investment firm that focuses on the acquisition of industrial real estate and the purchase and sale of industrial equipment. The firm currently owns, through its affiliated entities, 100 facilities throughout the United States, totaling approximately 18 million square feet and over 1,200 acres of developable land. Hackman Capital has also conducted hundreds of equipment acquisitions, dispositions, and liquidations on four continents. With more than 26 years of experience in acquisition, redevelopment, and asset management, Hackman Capital is known across marketplaces for its ability to successfully navigate complex transactions and financial restructurings involving real estate and equipment. The company also has a strong relationship network already established, locally, and manages its Midwest operations, including properties in Ohio and Michigan, from its Columbus office
More about the Columbus Portfolio
The Columbus properties are clustered in Columbus' prime Northwest, Northeast and Southeast submarkets and offer easy access from Interstate 270. The properties include:
12 Multi-Tenant Flex Buildings
Tuller Ridge Commerce Park, Dublin/Northwest, three multi-tenant buildings, 83,525 SF
Creek Run Commerce Park, Worthington/Northeast, three multi-tenant buildings, 108,925 SF
Lakeview Commerce Center, Worthington/Northeast, four multi-tenant buildings, 99,104 SF
Dearborne Corporate Center VI & VII, Worthington/Northeast, two buildings, 118,272 SF
33 Warehouse/Distribution Buildings
555 Yearling Road, Columbus/Northeast, one single-tenant building 164,450
Roberts Road Industrial Park, Columbus/Northwest, nine multi-tenant buildings, 596,018 SF
Dearborn Corporate Center V, Worthington/Northeast, one multi-tenant building, 108,000 SF
Innis Road Industrial Park, Columbus/Northeast, one multi-tenant building 355,761 SF
Moler Road Industrial Park, Columbus/Southeast, two multi-tenant buildings, 108,925 SF
Southeast Industrial Park, Columbus/Southeast, 18 multi-tenant buildings, 801,705 SF
Ruther Glen Industrial Park, Ruther Glen/Richmond, one single-tenant building 359,605 SF
For more information about Hackman Capital's Columbus properties, contact David Smith at dsmith(at)hackmancapital(dot)com.
For more information about Hackman Capital, visit http://www.hackmancapital.com.