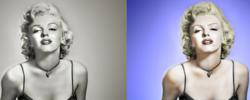 It's better to be like Marilyn Monroe by being yourself.
New York, NY (PRWEB) August 03, 2012
Did her eyebrows have arches higher and more prominent than McDonald's? In some Marilyn Monroe photos, one may wonder. These golden brown arches shined atop the highest point of her magnificent face. Below them were a pair of striking blue, bedroom eyes, nestled in and nurtured by classic Hollywood makeup secrets for making them look bigger, too. Marilyn Monroe's captivating eyes accentuated her face and showed so much extra expression they helped the camera and the world to see her as larger than life.
"50 years after her passing, I regularly have women wanting me to give them Marilyn Monroe eyebrow tattoos," says Sally Hayes, permanent makeup expert with offices in New York, Las Vegas, Scottsdale, and Los Angeles. "It's women from their late teens to their late sixties, all sizes, all backgrounds. They still have their eyes and their hearts set on having Marilyn Monroe eyes."
But just wanting to open the windows to Monroe's soul doesn't mean there's a window of opportunity for every woman who wants to copy them for her own. Marilyn had a magician's skill, eye and hand when it came to makeup, yet she also had Allan "Whitey" Snider as a full-time magical makeup artist her entire career.
Monroe's eyebrows always showcased a noticeable shape which will not be right for every face. She made her round-shaped face appear longer with the high, angular brow to accentuate her features. Her brows had a contoured shape to lend a wider look to her forehead, all in concert with her platinum blonde hair which she often used to cover much of her right eyebrow. Her eye shadow was subtle. Her eyeliner was not, usually in brown or dark brown. She also always wore false eyelashes in strips. This was a one of a kind approach designed to create a customized one of a kind look for her face and her brand.
"The easiest of Marilyn's magic acts to copy is her eyelashes," claims Hayes. "You can do that quickly and easily with Latisse. As for eyebrows, every week I have women asking me to fix what they hoped would be Monroe-like permanent eyebrows but instead wound up looking like wings on a bird in flight. And permanent eyeliner done too heavily will surely draw attention to your eyes, but usually not the type of attention a woman wants. It's better to be like Marilyn Monroe by being yourself."
Hayes dreams of having been able to support the work of both Monroe and Snyder on the appearance of her eyes. "With her eyebrows, I would have slightly increased the thickness of them in the front near her nose, moved the arch out slightly and made the ends slightly longer. With permanent eyeliner I would have used my unique technique of applying it along the lash line and underneath because of how Marilyn would have aged around the eyes. The eyes are a unit and we wouldn't want them looking washed out or her looking tired. Instead, we would have made her eyes sparkle or pop. These are permanent makeup procedures women today can get to channel their Inner Marilyn without the full-time effort she had every day."
About Sally Hayes Permanent Makeup
Sally Hayes is widely recognized as the nation's leading permanent makeup expert artist. She has performed tens of thousands of successful cosmetic tattooing procedures of permanent eyebrows, permanent eyeliner, permanent lip makeup and cosmetic camouflage. Many of the top plastic surgeons endorse and refer their patients to her, including celebrities. She specializes in undetectable permanent makeup which is natural-looking in enhancing a person's natural beauty and features.
To see the complete Modernizing Marilyn Monroe Series, visit http://www.permanentmakeup.com.
Contact Information:
Sally Hayes Permanent Makeup (inside the offices of Tribeca Plastic Surgery)
44 Hudson Street
New York , NY 10013
(718) 644-2366