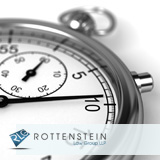 "We do not want any woman who has been hurt by NuvaRing to forfeit the compensation she might be entitled to because she took too long to file suit." —Rochelle Rottenstein
New York (PRWEB) August 03, 2012
In Millian v. Organon USA Inc. et al., case number A-4115-10T2, the Appellate Division of New Jersey Superior Court held that—when determining whether the claimant, Stephanie Millian, timely filed her claim for injuries allegedly caused by NuvaRing under New Jersey or Virginia state law—the relevant issue is "whether a reasonable person could have previously discovered the basis for a claim with the exercise of ordinary diligence," according to an Aug. 1, 2012, article in Law360.
Since Millian's treating physician told her that NuvaRing was the primary source of her blood clot when she was discharged from the hospital in November 2005, Millian was, "aware of facts that should have alerted her to the possibilities that [NuvaRing's manufacturer] may have caused or contributed to her injuries and that [NuvaRing's manufacturer's] conduct may have been lacking in due care," Law360 quotes the New Jersey appellate court as having written.
Accordingly, the Appellate Division of New Jersey Superior Court held that Millian's case was time barred because she didn't file it within two years of her release from the hospital where she was being treated for injuries that her doctor told her were primarily caused by NuvaRing.
Millian is just one of nearly one thousand women who have filed formal complaints alleging that they suffered severe injuries as a result of having used the NuvaRing birth control method, according to the 2011 form 10-K annual report that was published on Feb. 28, 2012, and filed by Merck & Co., the pharmaceutical giant that in 2009 purchased NuvaRing's original manufacturer.
As a law firm that is representing many of the claimants in the NuvaRing federal multidistrict litigation in Missouri (MDL 1964) and the New Jersey Mass Tort NuvaRing litigation cases, the Rottenstein Law Group urges women who have suffered injuries that they believe were caused by NuvaRing to consult a personal injury attorney about filing a NuvaRing lawsuit as soon as possible.
"We do not want any woman who has been hurt by NuvaRing to forfeit the compensation she might be entitled to because she took too long to file suit," says Rochelle Rottenstein, the firm's principal.
The Rottenstein Law Group's NuvaRing Lawsuit Information Center describes all of the issues that NuvaRing victims face and explains their options. (Attorney advertising. Prior results do not guarantee a similar outcome.)
About THE ROTTENSTEIN LAW GROUP
The Rottenstein Law Group is a New York-based law firm that represents clients nationwide in mass tort actions. The firm's founder, Rochelle Rottenstein, has more than two decades of experience as a lawyer, and compassionately represents clients in consumer product injury, mass tort, and class action lawsuits.
Contact:
The Rottenstein Law Group, LLP
Rochelle Rottenstein, Esq.
321 W. 44th Street
Suite 511
New York NY 10036
(212) 933-9500 (office phone)
(212) 933-9980 (facsimile)
rochelle(at)rotlaw.com
http://www.rotlaw.com
###