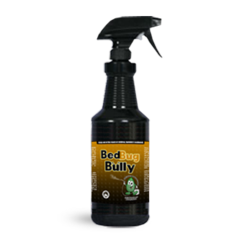 the fact that Bed Bug Bully is non-toxic is the main reason why it is the best
Cincinnati, OH (PRWEB) August 07, 2012
Bed bugs are some of the worst pests that anybody has to deal with. Sure, they don't transfer illnesses. However, they surely can badly affect a person's physical and mental wellness. And so bed bug sufferers can deal with them without bringing in more problems SprayForBedBugs.org introduced and recommended the use of its non-toxic bed bug product.
Get a Complimentary Sample of the Said Non-Toxic Bed Bug Solution
There are a number of reasons why bed bugs are probably the worst pests that anyone could encounter. For one, they are small and fast-paced, which makes them difficult to detect. Apart from that, they are not choosy about the place they infest as long as it is close to the source of their meal. And because they also multiply quick, their infestation can resurface if follow-up inspection and elimination are not implemented.
However, apart from those characteristics, the problems that the vampire-like pests bring also make them a major pain. Bed bug infestation requires replacement of the pieces of furniture they've overthrown. And that causes unnecessary spending. Additionally, bed bug bites can bring unnecessary medical bill.
To keep away from those negative effects of the said pests, one must know how to prevent their entry to houses. But given that bed bugs are sneaky, every property owner must also learn how to counter their possible presence. And to that, Bed Bug Bully can help effectively says SprayForBedBugs.org.
Discover All the Benefits of Bed Bug Bully
Bed Bug Bully is basically the company's non-toxic solution for bed bug elimination. Initially, it was only available to a number of pest-control companies. However, after a new licensing agreement, it's now available to the public. And as SprayForBedBugs asserts, it is the best bed bug spray that anybody can purchase.
According to the online company, the fact that Bed Bug Bully is non-toxic is the main reason why it is the best. Particularly, it makes the product safer as it spares everybody from poisoning, allergies, dizziness and breathing difficulties that strong chemicals in other bed bug products could bring.
But despite the fact that Bed Bug Bully is gentle to health and even to the environment, it is mean to bed bugs says the company. And to prove that, it's giving out complimentary samples of its non-toxic product. And as if that's not enough, it's also offering a webinar to help get the best result from a bed bug elimination with the said organic-based solution.
Bed Bug Bully is Up For Sale. Get It With 10% Discount Today. Just Enter Code 'pr10' at Checkout.