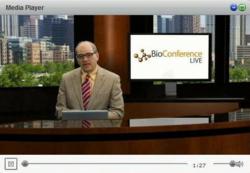 Not only are you getting leads, but the intelligence that you're collecting around these leads is a lot richer than what you can get through a live event. You're able to see what conversations they had, what they downloaded and what sessions they saw.
Yorba Linda, CA (PRWEB) August 07, 2012
BioConference Live, the world's largest producer of virtual conferences, is bringing together the Life Sciences community at its 6th Annual Life Sciences Virtual Conference, that kicks off Wednesday September 12th at 10:00 AM Eastern Standard Time. The conference will continue for two days live through Thursday September 13th at 10:00 PM Eastern Standard Time. The conference will be available on-demand beginning September 14th and will be available to view for three months following.
We have attracted the industry's finest speakers to present on the latest advances in Life Sciences. Dr. George Church from Harvard Medical School, will be delivering the keynote presentation, and other speakers from academia such as Northwestern University, Rutgers, Purdue, UC Davis, NYU, and industry such as the FDA, Fred Hutchinson Cancer Research Center, National Cancer Institute, ARUP, and several others. See speaker here.
We have seen a growing interest in virtual conferences with the increase in fuel costs and the slowdown in the global economy. BioConference Live participants will not only reduce travel expenses but the participant can access our virtual conference from anywhere. We are able to attract viewers who would not be able to physically attend a conference. During our Life Sciences Event, participants will be able to:

Search and attend session(s) of their choice
Get answers in real-time by experts via live videos
Chat live with peers and speakers
Browse the virtual exhibit floor with fully staffed booths
Save contents such as white papers in the "briefcase" given during the event
Connect with the sponsor's executives or sales representatives
Through the years, we have been very pleased with the results of our Life Sciences events. Our sponsors have seen increased sales and a great return on investment. Our attendance topped 8,000 in 2011, we anticipate 10,000 at this year's event. The average attendee spends 3 hours in the virtual environment each day of the event. 91.7% of the attendees enter the exhibit hall and visit 10 booths on average. The average booth receives 709 unique visitors. The average presentation receives 275 viewers.
To register to attend for free, visit BioConferenceLive.com.
To learn more about presenting, contact Abstracts(at)BioConferenceLive(dot)com or call (714) 269-2986.
To sponsor BioConference Live, contact Sponsors(at)BioConferenceLive(dot)com or call (714) 926-6384.
About LabRoots
LabRoots is the leading professional networking website designed to connect all science verticals. Founded in March 2008, LabRoot's vision was to connect the scientific world leveraging a myriad of unique features and tools, discovering meaningful collaborations across geographic boundaries and fields of expertise. LabRoots is the owner and producer of BioConference Live - which has grown into the larger series of virtual events within the Life Sciences and Clinical Diagnostics community.
BioConference Live are trademarks of LabRoots, Inc. All other trademarks or service marks are property of their respective owners.