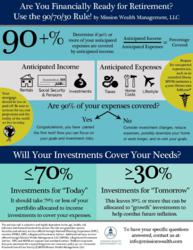 Our mission is to help our clients create a personalized retirement plan so that they can enjoy their golden years.
Santa Barbara, CA (PRWEB) August 06, 2012
Mission Wealth Management makes planning for retirement an easy endeavor with their tried and tested 90/70/30 rule to help people realize how close they are to retirement.
To know if individuals are on track for retirement, Mission Wealth Management's co-founders Brad Stark and Seth Streeter, devised a simple formula called the 90/70/30 rule that is easy to use and understand.
"Our mission is to help our clients create a personalized retirement plan so that they can enjoy their golden years yet so many individuals who are near retirement question whether or not they're on track," said Stark. "The 90/70/30 rule is a great tool to calculate retirement preparedness."
The 90/70/30 rule is a formulaic tool to help determine an individual's level of retirement preparedness in three easy steps:
1. Step one (Income Gap): Determine all expenses and all anticipated income sources (Social Security, rental property income, interest, dividends, pensions, etc.). When heading into retirement, we typically find the most financially secure people have 90 percent or more of their expenses covered by anticipated income. Conversely, people become less likely to achieve their financial goals when their anticipated income covers less than 90 percent of their expenses.
Once an individual's income gap has been determined, the next step in retirement preparedness comes down to their portfolio mix, their goals and a functional timeline.
2. Step two (Income Generation): When trying to create the desired income, it may take 70 percent or less of an individual's investment portfolio to cover their expenses via "income" investments. Remember, this portion of the portfolio is designed to address short-term needs. If it takes more than 70 percent to cover expenses, chances are they do not have enough "growth" assets set aside to help guard against inflation and the rising costs they will most likely incur in retirement.
3. Step three (Inflation Growth): What is not used for income purposes is money that can be allocated toward the future. With people living longer into retirement, guarding against inflation is also important. Depending on an individual's age and health entering into retirement, we generally recommend that at least 30 percent of an individual's portfolio be dedicated to growth investments so that they can keep pace with rising costs. The longer an individual's expected retirement, the more that can be allocated to growth and vice versa for shorter horizons.
Two typical outcomes can come from this formula: individuals have either saved "too much" or "too little." For individuals who have saved "too little" they may need to assume more investment risk and an increased financial uncertainty that comes with it to fill the gap. Individuals can also, however, look to cut expenses, work longer or modify goals. For those who have saved "too much" they should not become greedy with investments but consider taking on the least amount of risk to accomplish their needs.
Although this rule is not a substitution for financial planning, it does serve as a tool to help people take a quick look at their finances. To get a visual understanding of how this works, please review our infographic.
About Mission Wealth Management, LLC
Mission Wealth Management, LLC was founded on a vision to empower affluent families to pursue their financial dreams. When built, they saw a demand for something different from what other financial services firms were providing. To meet this demand, Mission Wealth Management, LLC was founded on the principles of objective advice, proactive financial planning, and coordination with other professional advisors, including accountants, attorneys, and bankers. Mission Wealth Management, LLC does not sell any internal products; therefore, the recommendations they make are solely in the client's best interests. Their client-centric planning process acknowledges clients and their needs to keep them on track and provide peace of mind. Mission Wealth Management, LLC's team coordinates with professional advisors to ensure effective integration of all financial decisions. Today Mission Wealth Management, LLC helps hundreds of families achieve their financial dreams by managing their wealth. For more information on Mission Wealth Management, LLC please visit http://www.missionwealth.com.
Securities offered through National Planning Corporation (NPC) member FINRA, SIPC. Advisory services offered through Mission Wealth Management, LLC (MWM), a Registered Investment Advisor. NPC and MWM are separate and unrelated entities. The opinions voiced in this article are for general information only. They are not intended to provide apecific advice or recommendations for any individual. Dividends are subject to change and are not guaranteed. All investment decisions should be based on your individual goals, time horizon and tolerance for risk.