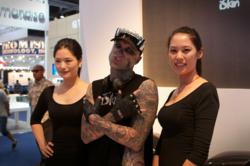 We showcased the company's "Cool in You" mantra that celebrates the uniqueness in everyone.
Toronto, Ontario (PRWEB) August 03, 2012
iSkin, a premium brand for fashion and technology lifestyle accessories, announced today that Canadian performing artist and model, Zombie Boy, made a special guest appearance at the iSkin booth during the MacWorld Asia tradeshow in Beijing, China.
First discovered by Lady Gaga's Fashion Director, Nicola Formichetti, Zombie Boy has claimed notoriety as a runway model for Thierry Mugler and has appeared in Lady Gaga's Born this Way music video. Since then, he has worked as a model for iSkin and made a previous appearance at the 2012 Consumer Electronics Show in Las Vegas.
iSkin is proud to now have introduced Zombie Boy to mainland China as a way to showcase the company's "Cool in You" mantra that celebrates the uniqueness in everyone. Zombie Boy drew large crowds while the company showcased it's recent Ducati x iSkin Collection, QWest Collection and its core product lines for the highly popular iPhone 4 and other Apple devices.
Launched over seven years ago, the iSkin brand in China has positioned itself as a premium option for fashion centric consumers looking to personalize and protect their beloved devices. iSkin is now considered as a favorite amongst China's technologically savvy and fashion conscious consumers.
As an icon of fashion and individual uniqueness, Zombie Boy truly personifies the iSkin brand DNA and it's commitment to innovation and delivering fashion-forward designs to the ever expanding technology accessory market.
MacWorld Asia runs Thursday, August 2nd - Sunday, August 5th at the China National Convention Center in Beijing.
For additional information on this or other iSkin products, please contact iSkin PR at press (at) iSkin.com or at (416) 924-9607, ext. 248. Follow us on twitter.com/iSkin for live social updates.
About iSkin Inc.
iSkin Inc. designs and delivers an inspired line of accessories, enhancements and solutions for the thriving Digital Lifestyle marketplace. iSkin has earned the reputation of being one of the most trusted brands in the world by being a company that focuses on total in-house, top to bottom product development with unique designs, technologies and innovations.
iSkin is one of the first companies that started to create new-generation, protective solutions with fashionable style for mobile devices with the birth of the iPod® in 2001.
The iSkin word mark and logo are registered trademarks of iSkin Inc., registered in Canada, the United States and other countries. All Rights Reserved 2006-2012. iPhone® 4, iPhone® 4S and Apple® are trademarks of Apple Inc., registered in the U.S. and other countries.