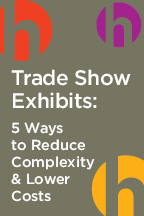 The business imperative is to continually find ways to get more bang with the same or fewer bucks
San Francisco, CA (PRWEB) August 07, 2012
Hood Branded Environments has released a new whitepaper that offers event planners 5 strategies they can implement right now to take cost and complexity out of their trade show budget.
"Every business faces the same issue – how to keep costs low while keeping up with increasing demands on all fronts. And if you are an event planner, this seems like the headache that never wants to go away," says Dave Hood, company CEO. "The business imperative is to continually find ways to get more bang with the same or fewer bucks."
"The trade show business is very dynamic, with a steady stream of new materials, new technologies, and new design approaches. We know event planners are always on the look-out for new ideas," says Mike Goefft, Chief Marketing Officer.
The Hood whitepaper provides practical tips for enhancing trade show exhibit performance while improving ROI – from exhibit design, to the use of energy efficient materials, the latest digital technologies, to managing shipping costs, and more.
Some examples:

Learn about a new approach to exhibit design that provides even greater flexibility over multiple trade show events than a traditional 'modular' design.
Learn how to lighten the weight of a typical trade show exhibit and reduce shipping costs.
Learn how many exhibitors are using digital displays to lower printing costs and improve performance.
Hood is providing the whitepaper for free on their website.
ABOUT HOOD BRANDED ENVIRONMENTS
Hood envisions, designs and produces immersive branded environments that help our clients deepen engagement with their customers. We've been in business in the San Francisco Bay Area for over twenty years. We started out making trade show exhibits, and we've grown into retail spaces, interactive kiosks, multi-channel experiential projects, museums, mobile exhibits, and corporate lobbies. We've had the pleasure of working with some of the biggest, most exciting brands on the planet like Sony, Levi's, MillerCoors, Francis Ford Coppola and David Copperfield. We provide a full range of services including user experience strategy, conceptual design, fabrication, fulfillment, project management and logistics.
Specialties
Branded Environments – Retail Displays – Interactive Kiosks - Custom Exhibits - Portable Exhibits - Rental Exhibits - Museums – Experiential Events