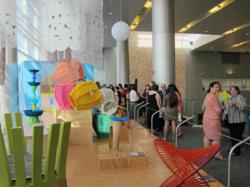 "Just as Brazil has started to establish itself internationally as an economic powerhouse, the country's artists and designers are being discovered around the globe." - Zoë Melo
(PRWEB) August 03, 2012
Organized and co-curated by Miami International Airport Fine Arts & Cultural Affairs Division Director Dr. Yolanda Sánchez and Zoë Melo of TOUCH, a renowned curator and insider of Brazilian design, Sem Fronteiras | Without Borders is an engaging exhibition presenting the very best and most innovative of Brazil's art, design and craft. The show features the imaginative work of 24 Brazilian artists, designers and artisans through ceramics, basketry, textiles, jewelry, furniture and fashion, as well as selective examples of photography and sculpture.
Says Zoë Melo, "Just as Brazil has started to establish itself internationally as an economic powerhouse, the country's artists and designers are being discovered around the globe as well. Staging this show in Miami makes perfect sense, as it is the place where not only different cultures meet, but where art and design enjoy a high level of attention. And our selection certainly deserves to be in the international spotlight."
The MIA Fine Arts & Cultural Affairs Program is directed by Dr. Sánchez, who has in recent years set out to organize thoughtful and vibrant exhibitions of arts and crafts from various nations. More than six months in the making, this latest show has not been without its challenges but the result does more than justify the effort.
"We are so pleased to host this engaging show, which we hope will promote greater awareness and interest in Brazilian culture and its diverse arts," said Dr. Sánchez. "This show is important not only because it showcases good design, but it also highlights how design can be integrated with social responsibility – preserving endangered traditions and supporting communities."
Sem Fronteiras / Without Borders is on display in the South Terminal Gallery, 4th floor level Mezzanine for the next six months, and is an exhibition not to be missed.