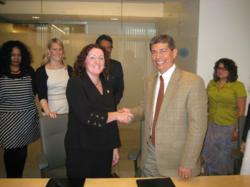 This academic collaboration is based on student and faculty exchange, reinforcing the CETYS Center for Excellence in Human and Social Development, as well as its graduate programs in Psychology
Los Angeles, CA (PRWEB) August 07, 2012
The Chicago School of Professional Psychology (TCSPP) and CETYS University System signed a cooperation agreement on July 23rd at TCSPP's national headquarters in Downtown Los Angeles. "This academic collaboration is based on student and faculty exchange, reinforcing the CETYS Center for Excellence in Human and Social Development, as well as its graduate programs in Psychology," said Dr. Fernando Leon Garcia, President of CETYS University.
TCSPP President Michele Nealon-Woods, along with Academic Vice-President and Chief Academic Officer Dr. Jay Finkelman, and CETYS President Fernando Leon Garcia, as well as Academic Vice-President Esther Mulnix, took part in the event. Leon Garcia mentioned that the institutions' first joint activity was a seminar on Solution Focused Brief Therapy by Dr. James Paul Birch, a TCSPP Faculty Member in coordination with Dr. Raul Romero, Psychology Graduate Program Coordinator at CETYS. The seminar was offered to undergraduate and graduate psychology students.
Other actions planned for the future are reciprocal visits by select TCSPP and CETYS professors, student exchange, and the reinforcement of academic programs in Family Therapy, as well as Clinical, Industrial, Organizational, and Forensic Psychology.
"This important collaboration between faculty and students speaks to TCSPP's national priority in Latino Mental Health. Faculty and students will be able to enhance their career development by obtaining a global and cross-cultural perspective that will prove useful in their areas of practice, especially in relation to the dynamics of the California and Baja California region," Nealon-Woods said.
Nealon-Woods also explained that both universities are similar, particularly in that they not only seek to train professionals but to contribute to the community. She acknowledged the importance of sharing culture experiences and how these influence mental health professionals.
The Chicago School of Professional Psychology
Founded in 1979, The Chicago School of Professional Psychology (TCSPP) is one of the nation's leading nonprofit graduate schools dedicated exclusively to the applications of psychology and related behavioral sciences. The school's community service initiatives have resulted in five consecutive years of recognition on the President's Higher Education Community Service Honor Roll, including the additional "With Distinction" honor in 2012. The school is an active member of the National Council of Schools and Programs of Professional Psychology, which has recognized TCSPP for its distinguished service and outstanding contributions to cultural diversity and advocacy. Campuses are located in Chicago; in Los Angeles, Westwood, and Irvine, California; and in Washington, D.C.
CETYS University
CETYS University is one of the top private, not for profit universities in Mexico. Founded in 1961 by business and community leaders in Baja California, CETYS University has evolved into a highly internationalized multi-campus system with 6,000 students in more than twenty undergraduate and graduate programs in Business, Engineering, and the Behavioral Sciences in Mexicali, Tijuana, and Ensenada. CETYS is the only foreign based university accredited by the Western Association of Schools and Colleges.