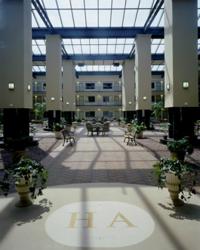 LAKE OSWEGO, Ore. (PRWEB) August 03, 2012
Holiday Retirement (http://www.holidaytouch.com), which owns and operates more than 300 independent retirement communities throughout North America, continued its recent growth by adding Heritage Arms, a senior apartment community in the upstate New York town of Glenville.
Heritage Arms, which will change to Holiday at the Atrium later this month, opened in 2001 at 2 Tryon Avenue. The community features 95 individual senior residences, a spacious atrium, a dining room, indoor walking trails, entertainment rooms, laundry rooms, a hair salon, and a convenience store.
Under Holiday Retirement's service model, residents will receive three daily meals prepared from scratch by a professionally trained chef, complimentary transportation, housekeeping services, and a robust schedule of daily activities and events. Two management teams also live on-site and are available 24/7.
All amenities and nearly all utilities are combined into one month-to-month rent. No buy-in fees are required. Holiday Retirement's exclusive travel program also allows residents to stay for free in fully-furnished guest suites at nearly all other communities.
"We are delighted to welcome many wonderful new residents into the Holiday Retirement family and look forward to serving them with an enriching lifestyle in the idyllic setting of Glenville," Holiday Retirement CEO Jack R. Callison, Jr. said. "Holiday Retirement has blossomed because of our approach to service, and we are honored to share our unique way of life with more seniors."
Independent senior living is designed for those who seek a maintenance-free, socially-engaging and secure lifestyle but do not require around-the-clock assistance with daily activities or skilled nursing. Holiday Retirement does not provide health care services, but residents are welcome to receive services from any outside home health care providers of their choice.
To learn more, call Holiday Retirement at 503-586-7289 or visit http://www.holidaytouch.com.
ABOUT HOLIDAY RETIREMENT
Based in Lake Oswego, Ore., Holiday Retirement founded the concept of independent senior living in 1971 and is the largest provider in North America today with more than 300 retirement communities throughout the U.S. and Canada. Holiday Retirement is in the business of providing security, comfort, and value to independent seniors seeking a fulfilling lifestyle in a welcoming environment. For more information about Holiday Retirement, please call 503-586-7289 or visit http://www.holidaytouch.com.