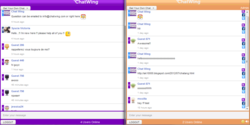 Chicago, IL (PRWEB) August 03, 2012
Anime manga fans will now be able to discuss their favorite scenes and characters with the help of Chatwing's latest chat box. This chat application has been introduced in different Anime communities across the Internet, benefiting a lot of Anime fans and cosplayers. Chatwing also allows social media integration for all of its users and for visitors as well. Aside from that, Chatwing's chat app can be installed in just seconds—emphasizing its overall adaptability to blogs.
Based on the research of the Chatwing dev team, Anime manga fans tend to talk about the hottest mangas ever. Most mangas being talked about are Bleach, Naruto, One Piece, and Fairy Tail. As the Chatwing team introduced the free chat widget to some manga communities, the fans have begun discussing certain topics. These discussions have created streams of visibility for many Anime blogs. The rate of visibility varies, depending on the content of the blog and the way the blogger interacts with the visitors. Chatwing allows guests and visitors to log in with their Facebook and Twitter accounts. Through this option, users will be able to expand their social networks. Chatwing's free chat box can also be installed in just seconds, and also allows high rate of customization for all users.
Aside from customization, Chatwing users will have full conversation control. With this, users will be able to delete messages in real time and set up word filters as well. This is useful in keeping the blog free from profanity always. Chatwing's free shout box has a 600-user capacity, yet the dev team is planning to upgrade it to 1000. With this, many bloggers and web surfers can connect with each other.
The Chatwing team is purely dedicated to help—not just Anime manga fans—but thousands of bloggers across the Internet as well. The Chatwing developers believe that successful website chat, as a whole, can only be achieved by introducing a free chatbox that can bring web communication to a whole new level. The Chatwing team is working hard to make this vision a reality for everyone.
About Chatwing.com
Chatwing.com specializes in the new field of website chat. Over years, the Chatwing team has introduced live chat widget for hundreds and thousands of blogs. The Chatwing application bridges people from many parts of the world, creating global synergy through the Internet. The shout box can be installed in just seconds, and it can be used for varying purposes such as leisure and Internet marketing. It also allows a user to customize the size, color, and name of the widget. Chatwing is 100% free for everyone.