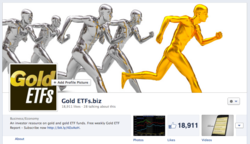 Gold fund investors continue to wait for the next round of financial liquidity.
Chicago, IL (PRWEB) August 03, 2012
Gold fund investment site, GoldETFs.biz, reports that gold fund shares were pushed lower by investors disappointed with comments from the Federal Reserve and the European Central Bank. Investors were expecting a tip of the hat to a new round of financial stimulus but received only vague talking points from the central bankers. Thus gold funds, which began to surge last week on liquidity hopes, dropped in value over the last two days.
A combination of developments in Europe and the U.S. were responsible for the gold price surge late last week according to the article on GoldETFs.biz. Poor economic data from Germany, the U.K. and Spain increased sentiment that the EU would need to introduce new financial liquidity measures. In fact the President of the ECB vehemently defended the ECB's resolve to combat the recent European economic turmoil, rallying gold markets at the end of last week.
Following in the footsteps of Europe, U.S. economic data last week was poor. The data combined with numerous reports that the Federal Reserve was discussing another round of stimulus ignited hopes of an imminent liquidity move. This potential action would have been beneficial to gold prices, notes GoldETFs.biz. However, markets received no such announcement this week and sold off accordingly.
"Gold fund investors are getting used to disappointment from central bankers," said Christian Magoon, Publisher of GoldETFs.biz. "Since late February, investors have increasingly expected new liquidity actions from U.S and European central bankers but have been denied each time."
A significant dose of financial liquidity would likely devalue paper currency, including the U.S. Dollar, due to an increase of supply. As gold is primarily denominated in U.S. Dollars, gold would immediately be worth more dollars. In addition demand for scarce assets like gold would likely rise, increasing the value of gold as well. Both dynamics would benefit holders of gold ETF products being backed by physical gold.
Currently the three largest gold ETF products in the U.S. are the SPDR Gold Trust, the iShares Gold Trust and the ETF Securities Swiss Gold ETF. Each fund's fees, prices and performance can be compared via the gold fund list on GoldETFs.biz.
About GoldETFs.biz
GoldETFs.biz is a leading investor education site focused on gold funds and the markets they track. The site provides a complete gold ETF list, comparison tools and real time insight on gold through Twitter feeds. Besides the site, users can access GoldETFs.biz content on Facebook, YouTube and Google+. Follow @GoldETFsBiz on Twitter or become a fan on Facebook at /GoldETFsBiz.
About Christian Magoon
Christian Magoon is Publisher of GoldETFs.biz and CEO of ETF consulting and publishing firm Magoon Capital. Having launched over 40 ETFs to date, Magoon is an ETF insider and innovator. His vision for GoldETFs.biz was to create a convenient, social and educational source of ETF information on the gold exchange traded fund segment. IndiaETFs.com is a sister property. Christian has been named an "ETF Pioneer" and was recently featured as "One of Five ETF Experts To Follow On Twitter." Follow @ChristianMagoon for regular investment and ETF insight.