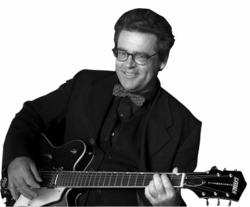 Santa Fe, NM (PRWEB) August 02, 2012
Santa Fe Bandstand is a free summer music festival on the Santa Fe Plaza, produced by Outside In Productions and a crew that strives to present the city with a wide range of performers, who represent the diversity and wealth of musical talent in this region. Performances take place Monday to Thursday, through August 16, 2012. All shows are free and open to the public. During evening performances, the first act begins around 6 p.m., the headlining act performs at approximately 7:30 p.m.. Joe West & The Santa Fe Review and the Paula Rae McDonal Band make their way to the stage for Santa Fe Bandstand's evening entertainment from 6 to 8 p.m., Thursday, August 9, 2012. This event and the entire Santa Fe Bandstand free summer musical festival is a featured event on Santa Fe visitor guide SantaFe.com.
Joe West is Santa Fe, New Mexico's favorite songwriter according to the Santa Fe Reporter newspaper's readers' poll, where he was the winner for the category 'Best Song Writer' for the years 2008, 2009, and 2010.
It seems that Joe West's strange folk/country tales of U.F.O.s, broken hearts and trailer park liberals enthrall audiences wherever he hangs his hat.
After spending many years in New York City as an actor and subway musician Mr. West moved to Austin, TX. During the time spent in Austin, Mr. West's CD, Jamie Was A Boozer, was rated as a top 10 Texas Platter by the Austin Chronicle and became a huge success on indie radio stations across the country and in Europe.
Now based in his home town of Santa Fe, Mr. West has continued writing and recording music with several different bands (on the Frogville Records label), most notably, The Santa Fe All-Stars who has been "Santa Fe Reporter's Best Band 2008, 2009 and 2010."
Mr. West has toured extensively throughout the United States and Europe, sharing the stage with the likes of Peter Rowan, Arlo Guthrie, and the Violent Femmes.
Over the last two years, Mr. West has produced an all original children's CD, has written and produced a full length rock opera, has produced music for film and television (most notably the EMMY award winning documentary, SPLIT ESTATE), and most recently, created an all original conceptual radio show called THE INTERGALACTIC HONKY TONK MACHINE.
The Paula Rhae McDonald Band is a great mix of country, blues, ballads, standards and dance songs. Along with band leader and showcase singer Paula Rhae McDonald, the band features a quality line-up of talented local musicians that know what they're doing and play like they mean it.
About SantaFe.com:
SantaFe.com provides locals and visitors to Santa Fe alike the most current interactive platform for events, music, arts, business, dining and lifestyle. SantaFe.com is a division of Hutton Broadcasting, located at 2502 C. Camino Entrada, Santa Fe, NM 87507
Contact Information:
Scott Hutton
SantaFe.com / Hutton Broadcasting
http://www.santafe.com
(505) 471-1067 (Media inquiries only, please)