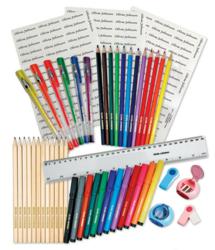 We always say, label it don't lose it
(PRWEB) August 06, 2012
Identity Direct, an online personalized gifts website, known for their successful My Adventure Books range, are preparing for a busy back to school season. The Back to School season is one of the busiest times of the year for online retailers, as parents race to buy stationery and other school supplies in time for the start of a new school year.
According to a recent study from 'Internet Retailer', US consumers spent more than $68 billion on books, apparel, paper, pencils, backpacks and other school supplies in 2011. This number is expected to grow in 2012. Identity Direct are aware of the increased online demand for school supplies, and offer a wide range of personalized school supplies including personalized pencil cases, personalized stationery, and personalized name labels.
Identity Direct founder Linda Greene states that "back to school is one of the busiest times of the year for us. Our extensive range of personalized products are perfect for parents and students alike". According to Greene one of the main benefits for parents is the fact that the personalization means their child's school supplies aren't continuously going missing. "We always say, label it don't lose it, because money's tight at the best of times when raising a family. The last thing you need to be doing is constantly buying replacement supplies."
Identity Direct have always catered to the back to school market and have an extensive range of products that are perfectly suited for school. Greene outlines that "our offline catalogue offering has always been big around this time, and over the last few years we have seen huge growth in the online market. People want the convenience of purchasing their supplies online and having them delivered straight to their door".
About Identity Direct
Identity Direct is the world's leading supplier of personalized children's products. We create products that bring magical, memorable moments that will live in the hearts and minds of you and your children forever. All our products are individually personalized for you and, having been in business since 1992, we're experts in personalization. We appreciate the joy our products bring you and we take seriously our responsibility to provide you with great quality products, matched with unrivalled value and superior service. We're also partners with some of the biggest children's brands in the world – including Disney, Marvel, Sesame Street and Nickelodeon. These partnerships let us combine the uniqueness of personalized gifts with the magic of your children's favorite characters. If unique, memorable and magical is what you're looking for in a gift, we can help!