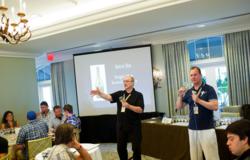 New York, NY (PRWEB) August 03, 2012
The Ultimate Beverage Challenge® team took to the road this past week and took some of the best spirits with them! Led by spirits wizards and Ultimate Spirits Challenge co-chairmen, F. Paul Pacult and Sean Ludford, Ultimate Spirits Challenge® (USC) Chairman Trophy-winning spirits were the main attraction at two sold-out tasting events at the country's premiere annual cocktail festival, Tales of the Cocktail® held in New Orleans. Ultimate Spirits Challenge is held annually in March in New York City.
At "Tasting the World's Greatest Spirits Seminar" on Thurs, July 26, a packed house of trade and media guests enjoyed the unique chance to experience what it's like to be a judge at the world's most respected spirits competition. This once-in-a-lifetime spirits tasting event featured one dozen of USC's 2012 Chairman Trophy winners and was guided by F. Paul Pacult and Sean Ludford. Attendees tasted twelve trophy-winning classics blind, as if they were actually judging at Ultimate Spirits Challenge, and then were asked to evaluate the spirit before the name was revealed to them. This made for a lot of interesting – and sometimes spot-on! – comments. Guests tasted the world's best single malt Scotch, armagnac, American whiskey, tequila, cognac, rum, Irish whiskey and mezcal.
On Saturday, July 29, hundreds of guests descended on the Hyatt Regency ballroom to attend the "Taste the World's Best Spirits Grand Tasting" where a selection of 2012 Chairman's Trophy Winners and Finalists were presented by brand representatives at a walk-around tasting. The participating brands were provided with an extraordinary opportunity to be sampled by a sophisticated and influential audience of trade and media. The stellar selection of USC Chairman's Trophy Winners and Finalists included: Aberlour Highland Single Malt Scotch Whisky, Appleton Estates Jamaica Rum, Balcones American Whiskey, Bulleit Bourbon and Rye, Camus Cognac, Rhum J. M. and Clement Rums, Del Maguey Mezcal, Don Q Rums, Dos Maderas Aged Rum, Four Roses Bourbon, Fuzzy's Vodka, George Dickel Tennessee Whiskey, Glenfarclas Highland Single Malt Scotch Whisky, Jacopo Poli Grappa, Johnnie Walker Blended Malt Scotch Whisky, Lillet Aperitif, Martell Cognac, Olmeca Altos Tequila, and Siete Leguas Tequila.
USC has set a new standard of integrity for spirits competitions and judging. Utilizing the latest technology, a groundbreaking multiple-level analytic approach and the world's foremost spirits authorities as judges, Ultimate Spirits Challenge is now viewed as the platinum standard for spirits evaluation. USC was proud to team with Tales of the Cocktail, the world's finest spirits and cocktail forum, to present these two exceptional events.
Full 2012 USC results including scores and tasting notes can be found here. Like us on Facebook.
ABOUT ULTIMATE BEVERAGE CHALLENGE
Ultimate Beverage Challenge (UBC) provides expert evaluation of wines and spirits for producers, importers and marketers through its three innovative annual competitions – Ultimate Spirits Challenge, Ultimate Wine Challenge and Ultimate Cocktail Challenge. Based on exacting standards, expert judges and rigorous methodology, UBC raises the standards of spirits and wine evaluation and supplies ratings and accolades to help companies build their brands with buyers, both industry and consumer. UBC was founded by F. Paul Pacult, Sue Woodley and David Talbot. Challenge and event photos, videos and press coverage can be found at http://www.ultimate-beverage.com.
UBC Contact: info(at)ultimate-beverage(dot)com, 1-347-878-6551
Media Contact: Manuela Savona, Savona Communications, manuela(at)savonacommunications(dot)com, 1-917-969-1275
Facebook: http://www.facebook.com/UltimateBeverageChallenge