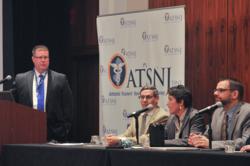 Nussbaum, noting it may be difficult for officials to identify helmet-to-helmet hits because of their positioning and the game's speed, said he has seen a spearing penalty called just once in all the scholastic games he attended over the past decade.
New Brunswick, NJ (PRWEB) August 03, 2012
A panel of renowned medical experts in the field of sports safety management presented the latest scientific evidence, at the Athletic Trainers' Society of New Jersey (ATSNJ) 3rd Annual Sports Safety Summit in New Brunswick, NJ. The ATSNJ held the summit as a means to educate physicians, nurses and health care providers who play a role in protecting today's athletes. Over 200 health care providers attended this event which was held less than two weeks prior to the start of the 2012 fall youth recreation, collegiate and high school sport seasons.In addition, the summit was watched by a world wide internet audience on concussiontv.com
With the start of another scholastic football season weeks away, spearing and sports equipment were the hottest topics which also included concussion management, sudden cardiac death, heat illness, MRSA and skin cancer concerns — that a world-class faculty discussed during Wednesday's eight-hour summit.
ATSNJ President Eric Nussbaum, the athletic trainer at Colts Neck High School, presented data during Wednesday's summit from a 2011 ATSNJ survey that identified head to head contact "spearing" as the primary cause for concussions in high school football.
According to the ATSNJ's survey of 84 football-playing high schools, helmet-to-helmet contact accounted for 92 percent of the 626 concussions (7.8 per school) sustained during varsity and sub-varsity practices and games at those schools last fall. A full version of the survey statistics can be found at:http://atsnj.org/article/atsnj-secondary-school-sports-2011-concussion-survey
Concussion Panelists included: Michael Goodman, MD - head of Pediatrics, Cooper Hospital, Jason Mihalik PhD, ATC, Mathew Gfellar Center, UNC, Margot Putukian, MD, Princeton University, who serves on numerous national sports safety committees and Jeffrey Kutcher, MD, Neurologist University of Michigan, Chairman of the Sports Neurology section of the American Neurological Association.
The panel discussed a wide variety of topics on concussions but seemed to all come to a consensus on two topics; head to head contact and equipment. The consensus opinion of a four-member panel during a summit roundtable discussion was "We have rules in place. They've been around for decades. We need to enforce them and have it be a point of emphasis that (penalties) are called." In addition, the other main consensus was reached on new "concussion reduction" equipment products; " You have to be extremely careful that the third party products don't affect the structural integrity of the equipment. If that integrity is compromised a dangerous outcome may occur".
About the Athletic Trainers' Society of New Jersey
ATSNJ, Inc. consists of Licensed Athletic Trainers, physicians and other allied health care professionals whose goal is to promote quality healthcare for athletes in any setting. For more information, visit the ATSNJ on the web at http://www.atsnj.org