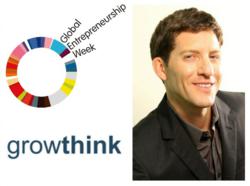 Mt. Kisco, New York (PRWEB) August 03, 2012
Global Entrepreneurship Week (GEW) came to New York City in November of 2011 when successful serial entrepreneur and President of Growthink, Inc., Dave Lavinsky, teamed up with Marymount Manhattan College to host "10 Steps to Start, Grow, & Sell Your Business." It was a powerful, live, in-person seminar, where Dave shared his 10 steps for entrepreneurial success. He taught entrepreneurs what it takes to launch a solid startup, and grow and run a profitable business. According to http://www.unleashingideas.org, "GEW is the world's largest celebration of the innovators and job creators who launch startups that bring ideas to life, drive economic growth and expand human welfare."
Among the jam packed room of motivated entrepreneurs was Sanchia Marquez, a hard working mom of two daughters with an idea for a mobile application called Kiddie Captions, http://www.kiddiecaptions.com. The app aimed to give working parents and their family members the ability to take photos of memorable moments with any smartphone, upload to their personal online journal, and create scrapbooks that they can easily order and have delivered to their doorstep. Marquez attended the event because like most entrepreneurs in attendance that day, she had a great idea but wasn't sure how to make it a real business. "There's nothing I enjoy more than seeing an entrepreneur take their idea and create it; to build a new product or service that solves an unmet need. And it's great to see that Sanchia Marquez did just that. Sponsoring Global Entrepreneurship Week last year was a blast. It did exactly what it was supposed to do, it inspired entrepreneurs like Sanchia to take their ideas and turn them into viable products and companies," says Dave Lavinsky. Kiddie Captions founder, Sanchia, learned about Dave Lavinsky and his company Growthink through social media and was excited to attend Global Entrepreneurship Week when she learned Growthink would be sponsoring an event in New York City.
To see more motivated entrepreneurs in action at Global Entrepreneurship Week in New York City click here: http://www.youtube.com/watch?v=kalHb-pJ7kM
To learn more about Sanchia Marquez and her story behind Kiddie Captions click here: http://www.kiddiecaptions.com/about-us.php
Growthink (http://www.growthink.com) helps entrepreneurs become more successful. Since 1999, they have helped over 500,000 entrepreneurs to successfully start, grow and/or exit their companies through their suite of services and products that solve the key needs of entrepreneurs. These needs include expertly identifying and pursuing new opportunities, developing business plans, raising capital, building marketing and growth strategies, and developing and executing on exit plans. Growthink has successfully helped raise over 2.5 billion in growth capital over the past decade and continues to go beyond the business plan to impact today's innovators and job creators.