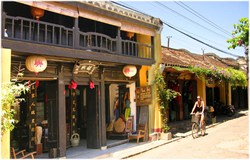 It is said that Hoi An has long been considered as a magically preserved Sleepy Hollow of coexisting Asian cultures
(PRWEB) August 03, 2012
If tourists are a couple, a family, or a group of friends and want to visit Vietnam, Hoi An Old Quarter Travel will be the best choice at this time. Especially, if tourists book a tour with Vietsmile Travel, the leading tourism service in Vietnam, they will get golden opportunities to have cheap tours up to 40% off. It is sure that a trip to Hoi An with Vietsmile Travel will bring customers a wonderful experience in the lifetime.
Named as the Venice of Vietnam, Hoi An retains a sense of history with ancient beauty. It is said that Hoi An has long been considered as a magically preserved Sleepy Hollow of coexisting Asian cultures. Also, it is fortunate to be a cultural crossroads of the Cham culture in the very first southward expansion of Vietnam, the Asian, and the Western ones. Indeed, it owns a series of old architecture lanes and houses left from their initial buildings. Walking around Hoi An, tourists are lured by the endless reminiscences of the past time since this Old Quarter was a major commercial port, a center of cultural interminglement amongst Vietnam, Chinese, and Japanese. Therefore, most people to Hoi An are interested in strolling about the ancient streets, purchasing souvenirs, clothes, and paintings. Others are keen on experiencing the simple life of the villagers and enjoying the poetic and peaceful scenery of bamboo, thatched cottages, rice fields, and village schools.
A special attraction that tourists should not miss is Festival. It is true that Hoi An Legendary Night touches many tourists' hearts due to its mysterious enchantment. It is the time when motorbikes are banned from the Old Town. Then, the Old Town becomes the wonder land of colorful lanterns, silk, glass, folk songs, and traditional games. Just trying a tour in one night here, tourists can enjoy the whole sense of a legendary culture.
For tourists who love shopping, Hoi An is a paradise. The Old Quarter owns a variety of souvenirs, handicrafts, antique pieces, silk materials, art paintings, and so on. Moreover, they are usually made by the local residents. Above all, there is something special such as laid-back, tropical, nostalgic, and artistic atmosphere that gets people hooked.
Due to the fact more and more tourists are booking tours to Hoi An, Smile Travel Vietnam offers a wide range of packages. The minimum cost of a tour package can be $35 the journey from Danang to Hoi An in 1 day. The most popular tour package is Hue – Danang – Hoi An in 4 days and 3 nights with the total cost of $198 - $365. Tourists can see more tour packages on Tours in Hoi An, Vietnam. Customers booking soon will have a chance to get cheap tours and many other offers.