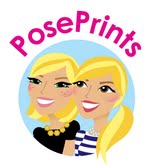 San Francisco, CA (PRWEB) August 03, 2012
ActSeed welcomes PosePrints to the ActSeed community as the online startup celebrates five years in business.
Self-funded by co-founders Denise Foster and Jen Harland Moss, PosePrints has quietly built a solid foundation in the custom online stationery business through lots of creativity and careful const management as a self-funded startup. The PosePrints web site combines simplicity with technology to take personalization to a new level.
The next step for this promising company is to refine their online workflow automation, add more digital and physical goods to their product line and expand their customer base internationally. The value of PosePrints is not just its unique idea, but also its intelligent use of technology to provide a great user experience.
"The internet and social marketing are two of the driving forces behind the success and growth of PosePrints," said Denise Foster. "The company is solely internet-based. All orders are placed through the website after the customer has co-created their own product. We spent many long hours planning with our webmaster exactly how the company would operate from beginning to end."
Notably, the company survived and even grew during the last recession, and the founders credit planning, fundamentals and tenacity as the reason for their success. "Our customer service is excellent and, in the five years since launch, we have received rave reviews for our products and our assistance," said Jen Harland Moss.
About PosePrints
PosePrints is an online stationery company allows users to create look-alike caricatures for ultra-personalized stationery, invitations and announcements. Individuals and businesses use a custom, interactive scrolling mechanism to create one-of-a-kind products. PosePrints will soon release an avatar app for mobile devices and social websites and plans to offer licensing of the designs or custom design engine to other online stationery companies. To learn more, please visit http://www.poseprints.com.
About ActSeed
ActSeed is a national online community for startups, early stage companies and small businesses. Since 2009, ActSeed has been helping thousands of entrepreneurs create jobs and build young companies by providing a proprietary "business blueprint" and connecting them to investors and business services that are critical for survival and growth. To learn more, please visit http://www.actseed.com.
If you would like more information about this topic or to arrange an interview with Bill Attinger, please send an email to media(at)actseed(dot)com.