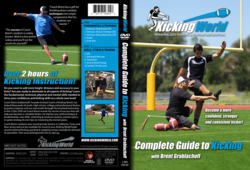 I'm confident my Kicking Video will help make a transformation in your kicking game and address all your concerns relating to field goals, kickoffs and onside kicks. You will be a more confident, stronger and more consistent kicker after watching the DVD.
San Diego, CA (PRWEB) August 06, 2012
There's something new in the Kicking World. Coach Brent Grablachoff, Founder & Head Coach of Kicking World released his first Instructional kicking video today. The Complete Guide to Kicking DVD is a follow-up to the enormously successful 'Complete Guide to Kicking & Punting' eBook that was released in 2008. Flipping ahead to 2012, Coach Brent's instructional kicking DVD offers students, parents & coaches a visual approach to the fundamental & technical skills of field goal kicking, kickoffs and onside kicks.
This two-Disc DVD includes 125 minutes of personalized instruction encompassing ten chapters of dynamite kicking action. The kicking instruction is delivered in an interactive way that helps students absorb and quickly implement what they've learned. Watch the 55 second DVD Trailer on YouTube.
It's been said that 'Special Teams Wins Games.' The Complete Guide to Kicking Video will help all levels of kickers get the training needed to improve & dominate the kicking game and help their team win more games. Nothing is overlooked in this kicking video. Coach Brent's instruction includes topics including on-field fundamentals & techniques, kicking drills, workout routines, in-gym training, practice plans, in-game strategy, kicking frequency, college recruiting and even tips on mastering the mental game.
Learn and Improve from Coach Brent Grablachoff's detailed approach to kicking delivered in an easy to learn, fun and interactive style designed to get results. The 'Complete Guide to Kicking' DVD is available now and can be purchased online at http://www.kickingworld.com
Kicking World is the leading football kicking, punting & snapping instruction provider in the world. Coach Brent Grablachoff and his staff provide year-round private instruction in Southern California, Austin & Dallas, TX and Toms River, NJ. Kicking World holds over 25 national kicking camps in dozens of states annually. Their clients include hundreds of students from all levels including Professional, Collegiate, High School and Youth from various geographic locations across the world. Kicking World is the source for expert, personalized kicking instruction with noticeable results.