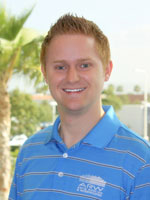 Irvine, CA (PRWEB) August 03, 2012
Irvine, California (August, 2012) - Antis Roofing and Waterproofing Inc. has just announced the promotion of Aaron Antis to Account/Marketing Executive. The firm is a major contractor services provider headquartered in Irvine, and serves all of Los Angeles, Orange, Riverside and San Bernardino counties. It's been an eventful journey for Antis who originally had no intention of working in the construction business until he got his first taste of the industry during a summer break while in college. When asked about his career aspirations, Antis said, "I never saw myself working in construction, let alone roofing, but fell in love with Antis Roofing and Waterproofing, Inc.'s exciting and supportive atmosphere. I knew very quickly that I wanted to be in this company for a long time."
Despite being a family member, Aaron earned his stripes by working his way up the company ladder based upon his passion, skill and desire to learn the construction industry from the ground up. But, it wasn't always easy for him – especially starting out.
When asked about Aaron, Founder and President of the company Charles Antis stated, "I love Aaron. He always gives 100 percent. In his first year, I put him on the jobsite and in a few weeks he reroofed the wrong house, he broke off two truck mirrors, and lost ladders on the freeway on two separate occasions. Every day thereafter Aaron showed up striving to learn from his mistakes. Today, Aaron is a stud. He has grown into a man who is respected by all in our industry and I am very proud of him."
Like many successful businessmen, Aaron worked his way up the ranks through hard work, diligence and an unrelenting passion to excel at his craft. He started out as a technician performing construction duties before taking a work hiatus to go back to school and finish his education. After realizing his career calling, Aaron changed his major to construction management and returned to school with a new vigor and passion. He graduated three years later with a Bachelor of Science in Construction Management from Brigham Young University.
Today, Aaron knows Antis Roofing like the back of his hand. He has held several organizational roles including Technician, Assistant Project Manager, Administrative Assistant, Scheduler, Assistant Estimator, IT Coordinator, Finance, Social Media Chair, Marketing Assistant, and Event Planner. Performing such as wide variety of duties has given Aaron the necessary framework and skill sets needed to be successful in his new role of Account/Marketing Executive.
"Aaron's five years of service to ARW has been a huge contribution to the company," notes Dean Morrison, Vice President of Sales and Marketing for ARW, Inc. "I've witnessed his growth from an intern in project management to becoming a key component to our office operations. I've also had the pleasure to work alongside him in sales and marketing and have been impressed by his ambition, drive, and dedication. I am very excited to have him on my team as an Account/Marketing Executive."
About Antis Roofing and Waterproofing Inc.
Antis was founded in 1989 and quickly established itself as a major player in the roofing and moisture intrusion industries in Southern California. Today, Antis provides their low cost and innovative construction solutions exclusively to homeowner's associations throughout the Southern California region. Owner and President, Charles Antis, believes in giving back to the community and currently serves on the Community Leadership Training Committee for the Orange County Chapter of Community Association Institute (CAI), as well as on the Board for Habitat for Humanity Orange County. He is also a contributing writer for many leading industry publications. To learn more about Antis Roofing & Waterproofing Inc., visit http://www.antisroofing.com.
Media Contact:
Aaron Antis
aaron(at)antisroofing(dot)com
949-461-9222
http://www.antisroofing.com