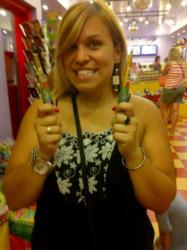 "My husband thought I was nuts when I insisted on driving 70 miles round trip to buy Astro Pops®. I bought 5 and have been hoarding them. What do my kids think? I have no idea since I'm not sharing them! :)"
Newport Coast, Ca (PRWEB) August 09, 2012
Leaf Brands®, previously known as the 4th largest candy company in the US before selling off to Hershey® back in the mid-1990's is quickly making a comeback with some of the hottest candies on the market and setting new sales records. Products such as Astro Pops®, Farts Candy®, Sour Spanks! and David's Signature, 'Beyond Gourmet®' line of candy are all proving to be a hit among consumers as they snatch-up product wherever they can be found.
"My husband thought I was nuts when I insisted on driving 70 miles round trip to buy Astro Pops®. I bought 5 and have been hoarding them. What do my kids think? I have no idea since I'm not sharing them! :)"
"My mom brought me one recently & I freaked out all excited like a little kid. I am 32!! Lol I was SO excited! I took pictures with it. My kids loved theirs! My mom found them about 30 min. away at a candy store. :)"
"I flew from Chicago to Vegas for work, and was gifted every last Astro Pop in the Sweet Factory store...two trays minus one! I'd been waiting for one since 2003, and couldn't wait to get the damn wrapper off! Sorry we bought them all, but....(no I'm not!) ;)"
"These are just some of the comments on Leaf's Facebook Fan Page, where many other stories of people flying across the US to find their favorite Leaf Brand® candy is becoming the norm and not something out of the ordinary" says Leaf Brands® CEO Ellia Kassoff. "We knew we had some great products but, wow! People are really going out of their way to find our candy." Kassoff continues. What started as a chance to bring back his family's old candy company has quickly grown into a fast-growing enterprise. With sales numbers of Astro Pops® alone eclipsing 600,000 units in less than six weeks, Mr. Kassoff has something to be proud of. "Every day I have a chance to read our different Facebook Fan Pages and e-mails from happy customers and it's always exciting." "We read stories of people driving over 70 miles to buy Astro Pops® or our other candy and it just makes me feel great." "How many people can say they sell happiness?"
Currently, Leaf's products can be found in the US as far-away as Anchorage Alaska, with international orders as far as Australia, China and Europe. Leaf will also be exhibiting at the large Hong Kong Food Expo. from August 15-20th, 2012 as part of a select group of California-based companies chosen by the state, and expects the expo. to help build their international expansion in the next 18 months.
Leaf Brands® has successfully created products for many different markets with Astro Pops® (as the #1 Retro Candy product), Farts Candy® and Sour Spanks!™ (as one of the top new novelty products) and David's Signature 'Beyond Gourmet'® line of products (created in corporation with the Inventor of the Jelly Belly, Jelly Bean® David Klein, to be the new luxury line of jelly beans and chocolate candies). "All our products are branded and meant for different market niches", said Mr. Kassoff. "We understand the need from a marketing perspective to satisfy all consumers." "In the next five years, our goal is to be one of the largest confectionery companies in the US and I really believe we can do it!" Kassoff ends.
According to candy industry analysts, Astro Pops® are forecasted to be the #1 nostalgic candy for 2012 and 2013. Initial sales numbers of the product are on-track to achieve that forecast. Leaf has also acquired the rights to both Bonkers! Fruit Chews and Wacky Wafer Candy and hopes to re-release them in the next 16 months.
About Leaf Brands®, LLC: The original LEAF Brands® were started in the 1920's. LEAF Brands, once the fourth largest candy producer in North America, produced candy classics such as Whoppers®, Jolly Rancher® and Rain-Blo Bubblegum®, which were later sold to Hershey Chocolate & Confectionery Corporation in the late 1990's. Family members have acquired the LEAF® brand name for the US, and assembled together to revive the Leaf name and its famous image. Products include Astro Pops®, Yummers!®, Farts Candy® and David's Signature Beyond Gourmet® products.
For additional information, contact:
Ellia Kassoff
http://www.leafbrands.com
kassoff(at)leafbrands(dot)com
(949) 424-1664