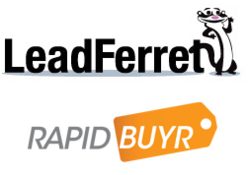 We feel they are the right fit to add real value to our community and bring solid money-saving deals to our users.
Calabasas, CA (PRWEB) August 03, 2012
B2B daily deal service, RapidBuyr (http://www.RapidBuyr.com), and LeadFerret (http://www.leadferret.com), the worlds first site to provide millions of B2B contacts free, with complete information, including email addresses, announced today they will partner to provide B2B daily deals to LeadFerrets growing community of users.
LeadFerret users will have access to money-saving B2B deals through the LeadFerret site, email newsletters, and social media.
Forest Cassidy, Co-Founder of LeadFerret, explains the decision to partner with RapidBuyr: "Many business executives and owners like myself have been looking for a good B2B daily deals provider that brings offers to the table that are truly of value. We've been keeping our eye on RapidBuyr, subscribing to their service ourselves, and we feel they are the right fit to add real value to our community and bring solid money-saving deals to our users."
"LeadFerret has amassed a cutting-edge group of successful business leaders and small business owners," said Tom Aley, president and CEO of RapidBuyr. "We're pleased to bring this value-added service to their growing community and offer exceptional deals to help them save money on the products and services they use every day."
It seems to be a natural fit: LeadFerret helps sales people, marketers, recruiters, small business owners, entrepreneurs, and all types of business executives save money with free B2B data for sourcing leads, and the robust search tools allow for more efficient prospecting, thus saving users significant time and money. RapidBuyr offers deep discounts, typically only available to bulk buyers, on products and services these same people need to run their business, also saving them time and money. RapidBuyr's deals include everything from local merchants to national brands, and range from computer hardware, software, web development and design, SaaS and cloud offerings, peripherals and IT outsourcing to marketing services, meeting space, staffing assistance, information subscriptions, office furniture and equipment, local services, travel, sporting and business events, and more.
About LeadFerret
LeadFerret, Inc offers a free B2B database with complete data for millions of business contacts, including email addresses, social media links, and much more. LeadFerret.com was launched on August 11th, 2011, and has seen rapid growth in a relatively short period of time. For more information, go to: http://www.LeadFerret.com
About RapidBuyr
RapidBuyr offers a targeted buying and selling platform for small and medium-size businesses (SMBs). The service provides millions of businesses with deep discounts of up to 80 percent on products and services such as business equipment, professional and business services, office supplies, education and training, marketing and communications, and corporate events. Founded by successful entrepreneurs from Amazon, Microsoft, CNET, Dow Jones and Ziff Davis, the company's relationships with UBM, CNET, ZDNet, TechRepublic, Hanley Wood, BuyerZone and others power local distribution and enable access to a highly targeted business audience. For more information, visit http://www.RapidBuyr.com.
Stela Cassidy
LeadFerret, Inc.
818-392-4303
scassidy(at)leadferret(dot)com