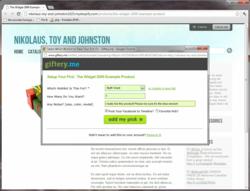 Providing choice is critical for merchants to win the attention -- and ultimately the business -- of shoppers in today's digital market.
Orange, CA (PRWEB) August 14, 2012
Today Giftery.me launched a new service to enable brands to directly integrate its Universal Wishlist feature into their ecommerce websites. Through the List It program, brands can offer a shopping-focused tool to engage shoppers who are not yet ready to buy, building an ongoing connection and providing them with a reason to return to the merchant and to complete the purchase at a later time.
This marks as a significant departure from tradition e-commerce wishlist tools which have focused on an individual store, thus limiting consumers shopping experience. Instead, List It spans across all stores, worldwide, to help merchants address the growing demand from today's digital consumers for flexibility and choice in shopping.
"No one shops at just one store," said Ted Sindzinski, founder of Giftery.me. "Whether it's for a birthday, wedding, or the holidays, providing choice is critical for merchants to win the attention -- and ultimately the business -- of shoppers who have a nearly unlimited set of options these days."
"The goal of List It is to let people save all the products they want in one place," added Sindzinski. "We've found that merchants who took an open approach with the List It button were able to remain on the minds of shoppers, and often bring them back for a sale that they would have otherwise lost."
In addition to wishlists, List It brings immediate social validation to products by posting listing counts on the merchant's website. This consumer-generated feedback has become an increasingly important feature for merchants, as shoppers look for the opinions of others to influence their research.
List It program is offered free to merchants through a user-friendly process that integrates with any existing ecommerce website at http://www.giftery.me/storeowner.
About Giftery.me
Launched in 2011, Giftery.me is a social shopping organization that connects gift givers and recipients. Through its flagship universal wishlist service, shoppers select products or services they want from any store without limitation, building just one list to improve the quality of the gifting experience. http://www.giftery.me