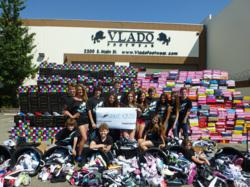 "Visually seeing 2200 pairs of shoes in one place made me feel a great sense of accomplishment for everything we've done this summer."
Hollywood, CA (PRWEB) August 03, 2012
Pictures speak a thousand words, or 2200 to be more exact. After months of hard work and dedication, "The Shoe Crew", a group of philanthropic kids, teens, and celebrities has successfully met their goal to collect 2200 pairs of brand new athletic shoes to donate to underprivileged youth. Timing could not be better as thousands of kids will be heading back to school in the coming weeks.
On Thursday, August 2nd, the Shoe Crew packed up all of the donations received from their summer long shoe drive and headed down to Los Angeles based Vlado Footwear for a final count of shoes! In early June, Vlado Footwear CEO Jill Kim learned about the Shoe Crew and wanted to get involved with helping them meet their summer shoe collection goal. She offered to match the first 1100 pairs of shoes collected by the Shoe Crew. Yesterday the "Crew" was invited to Vlado Footwear's Corporate office for an official shoe count. Vlado Footwear matched the shoes collected by The Shoe Crew for a total of 2200 pairs of new shoes. "Packing up all of the shoes we spent all summer collecting was a huge job" said nine year old Gabriel Welch! He went on to say "We had a two car garage full of shoes to sort through and pack up!" His sister, eight year old Hannah Welch, the youngest member of the Shoe Crew, added "Seeing all 2200 pairs of shoes together at one time in front of Vlado was something I will never forget, I am so thankful to Vlado Footwear for matching the shoes we collected!"
Shoes collected will be distributed to two charities - A Place Called Home and Shoes That Fit beginning this Saturday, August 4th at the Back To School Event at A Place Called Home- a center for underprivileged youth in South Central Los Angeles. Sixteen year old teen actor Brandon James has captured many moments this summer as the Shoe Crew photographer, he is especially excited to attend the Back to School event "Pictures speak a thousand words and I can't wait to capture the looks on the kids' faces when they receive the shoes".
The Shoe Crew has successfully hosted 8 events this summer where they asked the community to support their efforts by donating new pairs of shoes. The fun, family friendly events were organized and run by the group of 20 kids and teens wanting to spend their summer making a difference in the lives of other kids. The community came out to attend the fun events which were supported by local businesses such as Sky High Sports in Costa Mesa, Racer's Edge in Burbank, The Malibu Country Club and The Federal Bar. Each event was unique and the entrance fee was brand new shoes! "My favorite event was the pool party at Grand Vista Hotel in Simi Valley." said Team Captain Kayla Tinucci. Her brother, actor Justin Tinucci, said "I had a blast at all of the events, but the concert at The Federal Bar was my favorite one since my band "Like Our Last" had a chance to perform with many other amazing artists".
Shoe Crew member Paris Smith has been very moved by her experience this summer "Visually seeing 2200 pairs of shoes in one place made me feel a great sense of accomplishment for everything we've done this summer". Fourteen year old Jason Rinkel went on to say "As a diabetic, my feet hurt often because of my high blood sugar, and seeing 2200 pairs of comfortable athletic shoes brings me so much joy because I know that what we have done has helped provide comfortable shoes to so many kids".
Teen celebrities Dylan Riley Snyder (Kickin It!), Aedin Mincks (ANT Farm), and Allisyn Arm (So Random) have joined the Shoe Crew effort and have been attending the Shoe Crew events and volunteering their support to help raise awareness for this amazing cause! Other teen celebrities such as Joey King (Ramona and Beezus) and Haley Pullos (General Hospital) have also supported the Shoe Crew's efforts by attending their events.
Additional information about The Shoe Crew effort can be found on the official website, http://www.theshoecrew.org, which is managed by 17 year old Mark Rinkel from Corona, CA.
What's next for the Shoe Crew? The summer campaign was such a success that the kids have decided to make The Shoe Crew a year round effort and establish a 501c3 corporation. They are currently seeking investors and donations from those interested in helping support a great cause. Anyone who wants to help support The Shoe Crew efforts can make a donation on the website. The Shoe Crew is planning their next event in early September, a Black Tie Family Friendly Ball where supporters can attend wearing tuxedos, formal dresses and sneakers! The Sneaker Ball is set for September 8th and is a public event. Tickets can be purchased by visiting [http://shoecrew.eventbrite.com/?ref=esfb . The Shoe Crew also has plans to expand it's efforts nationwide - "Kids will need shoes all year long, so we will continue our efforts and will keep collecting new shoes and holding fun events." stated Kayla Tinucci. She went on to say "Reaching our summer goal of 2200 pairs of shoes was just the beginning of an ongoing effort - kids helping kids, that is what The Shoe Crew is all about".
About Shoes That Fit
The mission of Shoes That Fit is to provide new shoes to children in need for school. Every child deserves shoes that fit. Their grassroots programs are working to provide children in need with new shoes that enable them to attend school in comfort and with dignity and allow them to focus on their studies rather than their circumstances. Shoes That Fit creates a simple, hands-on program that encourages volunteerism in every community http://www.shoesthatfit.org
About A Place Called Home
A Place Called Home is a safe haven in South Central Los Angeles where underserved youth are empowered to take ownership of the quality and direction of their lives through programs in education, arts, and well being;and are inspired to make a meaningful difference in their community and the world. A Place Called Home is a dynamic, non-profit youth center located in South Central Los Angeles. APCH provides educational programs, counseling and mentoring, music, dance, and art classes. We also have a recreation and athletic department. One on one attention is at the heart of all APCH programs and activities. This reflects the belief that each
member arrives at our center with skills and abilities that have not fully been realized. As youth participate in our programs, they discover their interests and talents. APCH strives to help youth achieve a better sense of themselves and the world around them. Our goal is to increase the likelihood that they will stay in school and go on to higher education and viable jobs.
For more information please visit http://www.apch.org/
Contact: Jennifer Tinucci
303.472.8479
Jennifer (at) Five-StarPR (dot) com