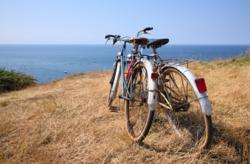 Brits say they have been inspired by Bradley Wiggins and Chris Hoy to use their bikes more
(PRWEB UK) 3 August 2012
Expect to see more lycra clad cyclists speeding through our streets after a poll by BreakFree Holidays found that over 50% of Brits say that they plan to use their bike more after watching the heroics of Bradley Wiggins, Chris Hoy and the rest of Team GB.
Of more than 850 people who responded to the poll (results taken on August 2-3) 57% said they have been inspired by British victories at the Tour de France and Olympics to use their own bike more often, and 20% said they might hit the saddle more regularly.
Jo Taylor, marketing manager at BreakFree Holidays says: "Watching Chris Hoy and his team hurtling round the velodrome and seeing Bradley Wiggins speeding through the French countryside in the Tour de France and then repeating the feat in the Olympics road race is energising Britain to wheel our bikes out of the garage, check the brakes, pump up the tyres and get pedalling.
"Whether cycling to work, taking the bikes on holiday or just heading out for fun, cycling is a great way to stay healthy.
"There are amazing bike routes across the UK and France, along stunning coastal routes, through beautiful countryside, woods and national parks, and even through most built up areas."
BreakFree Holidays is a short break specialist to the UK and Europe. Find out more at http://www.breakfreeholidays.co.uk.
ABOUT BREAKFREE HOLIDAYS
BreakFree Holidays provides holidays for more than 250,000 customers per year through the website breakfreeholidays.co.uk. The company features special deals at 400 locations in the UK and across Europe from many of the top holiday brands and independent operators. All types of self-catering accommodation are on offer, including caravans, chalets, lodges and apartments. For more information about BreakFree Holidays visit the website at http://www.breakfreeholidays.co.uk, like the brand at http://www.facebook.com/breakfreeholidays or follow @BreakFreeHols on Twitter.
For more information contact:
Daniel Johnson
Daniel Johnson Public Relations
T: 07429 256 670
E: daniel(at)danieljohnsonpr(dot)com