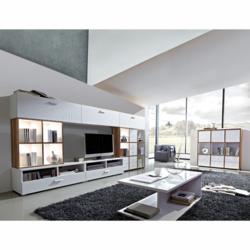 FurnitureInFashion Launches 25 New Living room Furniture Ranges for 2012/2013
(PRWEB UK) 11 August 2012
FurnitureInFashion is continually adding new products to its living room furniture ranges and now has launched 25 new living room furniture ranges for 2012/2013. Crafted by the German manufacturers using traditional construction methods, each living room furniture range features timeless style, durability and customization. These qualities have continued to make FurnitureInFashion a big name in the world of online retail business. On the launch of 25 new living room furniture ranges, the Managing Director of FurnitureInFashion Asad Shamim said, "We have always wanted to offer our customers the most extensive range of living room furniture. We have always offered something more as compared to the market. We focus on delivering fantastic products with guaranteed quality at affordable prices. The new ranges of living room furniture are unique, exquisite and are available at affordable prices."
The living room furniture ranges launched by FurnitureInFashion include Monza range, Freestyle range, Cool range, Nevada range and Torino range. These ranges are available in the form of settings and can be used as a complete solution for home décor. All these ranges have been produced by following the stunning fusion of Italian design concepts. These concepts have been translated into products with the reliability of German manufacturing processes to create ultimate customized furniture.
Nevada ranges have gloss Baltimore Walnut and white range of living room furniture with complete solutions for modern home requirements. This range comprises of items like Nevada entertainment cabinet, Nevada white plasma TV stand, Nevada entertainment stand, Nevada storage entertainment cabinet and Nevada wall mounted display CD shelf. All these equipments come with trendy handles for style and durability. These units can be used as it is or double or tripled to create ultra long units. Mr. Asad said, "Nevada range captures the beauty and charm of modern and contemporary style. Nevada range allows customers to transform the look of their living room with pieces that are perfectly matched in design and style."
The Cool living room range of FurnitureInFashion comprises of cool hi-gloss white range of living room furniture which gives an absolutely fantastic contemporary furniture look to any living room. It is a fusion of Italian concepts translated into stunning designs by using German manufacturing processes. The Cool range includes Cool high gloss wall mounted cabinet, Cool gloss wall mounted illuminated glass cabinet, white high gloss plasma TV stand and a wall mounted high gloss Cool book shelf. All these equipments have chromed metal handles for style and durability.
The Freestyle range of living room offered by FurnitureInFashion comprises of walnut range of products which gives both contemporary and traditional look to a living room.
Customers can enjoy wall mounted display book shelf in Freestyle range, Freestyle walnut low plasma TV stand, Freestyle wall mounted cabinet, wall mounted illuminated cabinet and a Freestyle 4 door entertainment cabinet. The Monza high gloss range for living room comprises of white entertainment furniture with gloss front. It includes Monza white display cabinet, Monza gloss 3 door TV stand, Monza tall display cabinet, Monza illuminated display cabinet, Monza sideboard and Monza display book shelf. Torino living room comprises of valuable and complex processed acacia wood products that give living room a unique character. The high quality, brushed finish surface, touchwood, amazing design features and the warm gray brown color makes this range a real highlight in any home. It includes Torino sideboard and wall mirrors in gray brown colors. Mr. Asad said, "Our company philosophy is to offer a unique range of furniture products that can highlight our customers from all others. We are looking forward to add more products in our living room range throughout 2012/2013"
About FurnitureInFashion
FurnitureInFashion is a UK based online retail store that supplies furniture for living room, bedroom, dining room, kitchen, hallway, bars and office. For more information visit http://www.furnitureinfashion.net or call 01204 792700.