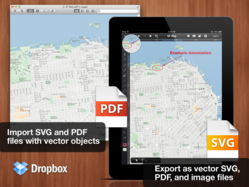 Palo Alto, CA (PRWEB) August 03, 2012
Today, Indeeo introduces the latest update to its design and illustration application for Apple's® iPad®. iDraw® brings the powerful features found in desktop vector illustration applications to the iPad, in an intuitive mobile interface. iDraw 1.4 adds the ability to import vector designs saved as PDF files, simplifying workflows with other illustration applications.
With native support for both the PDF and SVG formats, iDraw can work seamlessly together with a wide variety of other applications. Designs can be imported and exported easily using iTunes File Sharing or using the built-in Dropbox integration.
This latest update also adds several improvements for text editing and layout, including multi-style text, in-place editing of transformed text, and the ability to place text on a path.
iDraw combines powerful graphic design features with the freedom and ease of use of the iPad, allowing users to create stunning illustrations, technical diagrams, photo montages, and much more. With support for a varied set vector drawing tools, brushes, layers, blend modes, text, images, and fully customizable canvas styles, iDraw is the most feature-packed vector illustration application available on the iPad.
Notable Features:

Built-in Shape libraries and Styles
Layers, opacity, and blending
Multi-style text editing
Customizable grids, rulers, and dimensioning tools
Workflow:

Import Images, Fonts, PDF and SVG files
Export designs as vector-based PDF and SVG files
Copy and paste illustrations directly into other iPad applications
Share designs via email or upload them to Dropbox
Pricing & Availability:
iDraw is priced at $8.99 (USD) and available worldwide exclusively through the iTunes App Store in the Productivity category.
iDraw Website - http://www.indeeo.com/idraw/
iTunes Page - http://itunes.apple.com/us/app/idraw/id363317633?mt=8
Screenshot 1 - http://www.indeeo.com/idraw/images/screenshot1.png
Screenshot 2 - http://www.indeeo.com/idraw/images/screenshot2.png
Screenshot 3 - http://www.indeeo.com/idraw/images/screenshot3.png
App Icon - http://www.indeeo.com/idraw/images/idraw_icon_large.png
About Indeeo:
Based in Palo Alto, California, Indeeo Inc. develops high-quality professional applications for Mac OS X and iOS. iDraw launched as one of the first applications available for the iPad, and continues to be one of the best-selling illustration applications available for iOS. For more information, see http://www.indeeo.com.
Copyright 2012 Indeeo, Inc. All rights reserved. All trademarks or registered trademarks are the property of their respective owners.