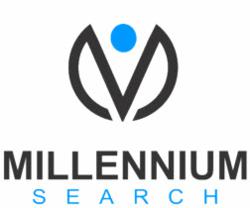 We've become more focused on helping early-mid stage start ups since every hire is crucial to the bottom line.
Charlotte, NC (PRWEB) August 06, 2012
Executive search firm Millennium Search LLC, based in Charlotte, NC, continues to grow its client list of early to mid-stage startups and leading organizations.
As the demand for top talent continues to increase, emerging startups fight to capture and retain highly skilled employees. A leader in the high tech recruiting industry, Millennium Search is hired to fill technical, marketing, and sales positions for its clients.
"I'm confident we'll carry this momentum through the end of 2012 and into 2013", says CEO of Millennium Search Amish Shah of the company's success. "We've become more focused on helping early-mid stage start ups since every hire is crucial to the bottom line. We take pride in delivering A-players to those clients"
Organizations retaining Millennium Search as their executive search firm include companies in business intelligence and analytics, web and mobile development, social media, and SaaS solutions. The following companies have recently enlisted Millennium Search to fill their key roles:
BehaviorMatrix is an applied behavioral analytics company supplying services around the measurement of consumer emotion and sentiment.
PivotLink is a cloud SaaS company providing data processing and storage products for high volume data organizations. They are backed by Trident Capital and Emergence Capital Partners.
RRKidz is a digital multimedia company based on the award winning children's television show, Reading Rainbow.
Kaplan Test Prep is an online education company furnishing resources for college and graduate level admissions testing.
Fanduel, backed by Piton Capital, Pentech Ventures and the Scottish Investment Bank, is a company providing online daily and weekly fantasy sports leagues.
Cloudshare is a cloud computing company creating solutions for testing IT applications, software, and systems. They are backed by Sequoia Capital, Charles River Ventures, Gemini Israel Funds, and Globespan Capital Partners.
Perimeter Security is an information security company rendering data protection for both small and enterprise organizations.
In Q2 of 2012, Millennium Search has signed over 15 new clients. With the recent expansion of their team and their growing reputation as recruiters for startups and organizations in the technology industry, Millennium Search is poised for continued growth into the 2nd half of 2012 and into 2013.
About Millennium Search
Millennium Search is a boutique executive search firm dedicated to the ethical, rapid and successful placement of top-tier talent in start-ups, mid-stage, emerging and Fortune 500 technology companies worldwide. The company's stated mission is to provide a match that will result in success and growth for both the client and the candidate. For more information visit http://www.msearchllc.com.