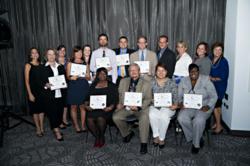 Orlando, Florida (PRWEB) August 06, 2012
The American Hotel & Lodging Educational Institute (EI) conducted a review session and exam for the Certified Hospitality Trainer (CHT) designation during the Council of Hotel and Restaurant Trainers (CHART) conference held in Chicago in July.
Participants who successfully earned the CHT are:

Colleen Kent, CHT, California Pizza Kitchen
Gini Quiroz, CHT, K&N Management
James Adam Sherling, CHT, Zaxby's
Jeff McLanahan, CHT, Papa John's International
Kelley Wisley, CHT, Benchmark Hospitality International
Kimberly Proffitt, CHT, Apple Sauce, Inc.
Landon Nicholson, CHT, Papa John's International
Lori Rolek, CHT, Clearview Cinemas
Michael R. Amos, CHT, Perkins Restaurant & Bakery
Paul Craythorne, CHT, Cinnabon
Sarah Milo, CHT, O'Charley's
Tanya Hill, CHT, Golden Corral Corporation
Tasha Friedlein, CHDT, CHT, HVS Hotel Management
Trendrecka Reed, CHT, O'Charley's
Wilma Moran Estaura, CHRE, CHT, Ayalaland Hotels & Resorts Corp.
The Certified Hospitality Trainer designation recognizes and validates the knowledge and skills possessed by property-level training executives or directors, or department heads at a hospitality company. Successful candidates demonstrate mastery of training concepts such as instructional design, assessing training needs, measuring and evaluating training, mentoring, hourly employee orientation, and management development and executive education.
For information on all of the Educational Institute's professional certification programs, call 888-575-8726 or 407-999-8100 or visit http://www.ahlei.org/certification.