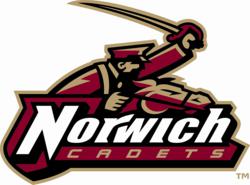 Northfield, Vt. (PRWEB) August 03, 2012
Norwich University head cross country coach Nick Cooper has announced that Joe Rosenthal and Joseph Santarelli (men's), as well as Mallory Clark and Meghan Grenier (women's) will be captains for the upcoming season.
Rosenthal, a senior from Pasadena, Md. garnered all-conference honors in 2011 and figures to remain a mainstay at the top of the Cadet squad. He was the top individual finisher at the NCAA Division III New England Regionals in 2011.
Santarelli is a junior in the Norwich Corps of Cadets who is majoring in criminal justice. He hails from South Hamilton, Mass.
Cooper is looking for the two upperclassmen to lead a group that finished second a year ago in the GNAC championships. "They will be great captains for our men's team. They have a deep desire to keep moving our program forward and to do whatever they can to help their teammates reach their goals."
On the women's side, Clark (Sr., Homer, Pa.) is also a returning all-conference selection who was the top individual finisher at the 2011 NCAA Division III New England Regional.
Grenier (Jr., Griswold, Conn.) missed 2011 due to injury but Cooper is excited to have her back on the team. She is a member of the Norwich Corps of Cadets and also competes on the lacrosse team.
"I am excited that Mallory and Meghan will be our team captains for this year's season. They are both excellent leaders on and off the course and I know they will help the team tremendously as we continue to take our program to the next level. They are highly respected by their current teammates and will be great mentors to our incoming class," Cooper said.
The Norwich cross country teams open up their 2012 season on Saturday, Sept. 1 at the Keene State Invitational in Keene, N.H.
Norwich University is a diversified academic institution that educates traditional-age students and adults in a Corps of Cadets and as civilians. Norwich offers a broad selection of traditional and distance-learning programs culminating in Baccalaureate and Graduate Degrees. Founded in 1819 by Captain Alden Partridge of the U.S. Army, Norwich University is the oldest private military college in the United States of America and the birthplace of our nation's Reserve Officers' Training Corps (ROTC). http://www.norwich.edu