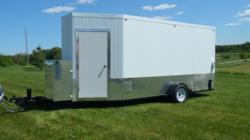 "I have to say it is one of the few bed bug technologies that has impressed me from both a technical and operational stand point..." David Cain
Leonard, MN (PRWEB) August 06, 2012
Insect Inferno is an enclosed mobile heat chamber that is used to kill bed bugs and their eggs.
In March of 2012 David Cain, Managing Director of Bed Bugs Limited in the UK and one of the world's leading experts on bed bugs, met with Corey and Sue Westrum owners and inventors of Insect Inferno in Minneapolis, MN.
Corey and Sue Westrum hired David Cain to come and do testing on the Insect Inferno trailer. The testing included placing data loggers inside the trailer to test air flow, temperature, humidity and all around effectiveness.
David Cain was quoted saying the following about the Insect Inferno trailer, "I have to say it is one of the few bedbug technologies that has impressed me from both a technical and operational stand point, I just wish we had one in the UK to use. As you will see from the suggested applications the ability to isolate, remove and rapidly decontaminate the most infested assets can greatly enhance the efficiency of bedbug treatment which this system is capable of going without the expense and time taken to set up a whole home thermal. I would envisage that a team equipped with one of these could clear a normal domestic infestation in under 2 hours and be looking at moving on to the next unit/job. I also like the fact that being portable you could take to a public space or housing project and help those in need through asset recovery rather than this highly wasteful throw it all out we still see."
David Cain goes on to say, "I know I have a reputation for testing to destruction and fear not I am currently working on two failed technology reports but this one gets two thumbs up from me which is rare in itself. If I was still in the banking sector I would say this one is a good safe long term investment and from what I understand their patent position is looking extremely good and highly defendable."
To view Insect Inferno's full report done by David Cain go to the following link:
http://www.bed-bugs.co.uk/insectinfernotrailertest.html or on Insect Inferno's website http://www.insectinferno.com