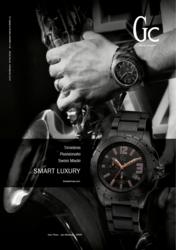 Norwalk, CT (PRWEB) August 06, 2012
On August 8, 2012, Gc will recognize Shaina Taub and Moises Ramirez as their first U.S. Rising Stars during a cocktail party from 7:30 p.m. to 9:30 p.m. at the Robert Restaurant in the Museum of Art and Design in New York.
As part of a new, larger international campaign called "Moments of Smart Luxury captured by Gc," the Rising Stars concept focuses on promoting emerging creative personalities who are finding success in their respective fields and embody the personality and characteristics of the Gc brand: ambitious, dynamic, self-assured and proud of their success.Taub, an actor, singer, songwriter, regularly performs in New York with her band at top venues, including The Bitter End, The Living Room, and Rockwood Music Hall. A graduate of New York University's Tisch School of Arts and recipient of a 2011 Macdowell Fellowship, she released her debut EP, What Otters Do, last summer 2011. Proving she is a genuine jack-of-all-trades, Taub is currently working on the score of a new musical with playwright Kim Rosenstock, commissioned by the Tony-Award winning Oregon Shakespeare Festival while also developing music for Walt Disney Imagineering.
Ramirez, artist, studied mixed mediums/digital arts at Arizona University. Ultimately taking his skills into the creative field, he blended 15 years of painting with 7 years of make-up artistry to design a new genre of contemporary art. Based in New York, Moises' work takes on a level of illusion and skill that's never been seen and in turn has attracted an ever-increasing circle of fans and collectors.
Taub and Ramirez will be recognized at the event through an exhibit of photographs that capture these personalities in their smart luxury moments. Pino Gomes, well-known Brazilian photographer, is the man behind the camera who will document and convey these cherished moments to the public. The "Moments of Smart Luxury" campaign is a two-year worldwide initiative that will result in an international exhibition of selected images from around the world—these photos will also be used in the upcoming Gc ad campaign.
"Moments of Smart Luxury captured by Gc" is a global concept that captures the essence of Gc and celebrates the truth that each of us is capable of achieving our own Smart Luxury moment day to day," says David Yim, Chief Operating Officer of Sequel International. "The two U.S. Rising Stars that we have selected, Shaina and Moises, are individuals who embody ambition and passion and we are excited to help share their talents with the world."
As part of the cocktail celebration, more than 150 guests will be invited to explore the emotional component of the Gc brand and experience the concept of Smart Luxury. With 15 years behind them, Gc continues to grow their sales worldwide and has successfully become one of the top 10 Swiss Made watch brands in the world in terms of volume. Gc is itself a rising star and is honored to be working alongside such impressive brand ambassadors, now including Taub and Ramirez, worldwide. To find out more, please visit Gcwatches.com.
About Gc:
Gc is a Swiss Made statement brand whose signature "Smart Luxury" stands for the brand's commitment to provide quality Swiss Made timepieces and luxury products for men and women through the choice of their materials and design, all at a surprisingly accessible price point. Gc watches are produced and distributed by Sequel AG, a Timex Group company. Founded in 2007, Sequel AG, is a Swiss company headquartered in Zug, Switzerland, with satellite offices in London, Paris, Hong Kong, Toronto and Norwalk, Connecticut. Sequel AG is a member of the Federation of the Swiss Watch Industry FH. A 15-year licensing agreement gives Sequel AG the exclusive distribution rights for Gc watches worldwide. Sequel AG distributes Gc Watches in over 70 countries worldwide through a network of 60 distributors and 5,000 retail outlets, including Gc boutiques.
Contact:
Fiana Garza, FACTORY PR - fiana(at)factorypr(dot)com - 212.941.7057
Meghan Hogan, PR/Marketing Manager - SEQUEL - mhogan(at)sequel-us(dot)com – 203.523.7205
Kate Matis, Gc Brand Manager - SEQUEL - kmatis(at)sequel-us(dot)com – 203.523.7322
###