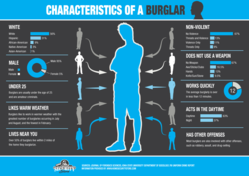 When I was researching, I was surprised to learn that most burglars who might break-into your home actually live near you and you are indeed likely to know the culprit.
Riverside, California (PRWEB) August 03, 2012
An infographic is an informative visual displaying statistics in an easy-to-understand format, says infographic designer Justin Marini.
Marini's latest Home Security Store infographic was created with data from Iowa State University's Journal of Forensic Science. "In this infographic we learn that most burglars live within two miles of the homes they target and most also have prior criminal offenses which include drug sales, robbery and assault. While the majority of home burglaries do not involve violence or even the use of a weapon, most do occur during the daylight hours particularly during periods of warm-weather," says Marini.
Home Security Store's Marketing Manager, Annie Blanco, who helped cull and organize the data for this latest infographic in the company's multi-part series, had this to say about the actual characteristics of a burglar versus the characteristics most people imagine to be true:
"When I was researching, I was surprised to learn that most burglars who might break-into your home actually live near you and you are indeed likely to know the culprit. This is a sobering fact, but one that should serve as a warning sign to always be conscious of who you let into your home and know who lives near you."
As was noted in the company's first infographic entitled, Odds of Burglary in America, which also appeared on the popular blog Penelope's Oasis, more burglaries occur in the southern portion of the United States than in any other region. Houston, Texas, in particular, has an especially high burglary rate in comparison with the rest of the country. Overall, most burglars also target single-family homes over businesses and a home without an alarm system is three times more likely to be broken into than a home with a monitored security system, according to the infographic.
Blanco says Home Security Store created this infographic series to empower the general public with crucial burglary statistics. Organized in a compact visual presentation, hard-hitting information is delivered in an at-a-glance format. As the second infographic recently presented by the do-it-yourself ecommerce security company, the sharp facts revealed underscore the need for rigorous home security strategies.
Though violence is not the norm in home burglaries, fear and long-term traumatic stress often is. Such is particularly true if residents are at home during a burglary. According to one visitor at the Shop With Me Mama blog, which featured the Characteristics Of a Burglar infographic, the loss of safety, peace and security felt when a burglar enters an occupied home is apparent for years after the fact.
As copies of this latest infographic continue to spread throughout the blogosphere, real-life tales follow. Stories like that of criminals driving a vehicle straight through one family's front door as they slept are but one such example, which was shared by Zippy who owns the Champagne Living blog. This is why the Home Security Store's own blog often advises homeowners to create multiple layers of security while regularly offering advice about how to protect a home, says Blanco. "This latest infographic, combined with the experiences shared on websites and blogs where it has been featured, aims to raise awareness about burglar profiles as well as the real need to create a strong resistance against their efforts," said Blanco.
The Characteristics of a Burglar infographic also indicates:
● Most burglaries occur during the daytime hours
● The average burglary takes less than 12 minutes to complete
● July and August are the highest months in which burglaries are likely to occur
Characteristics Of a Burglar infographic is the second in a monthly series aimed at highlighting facts about burglary in America.