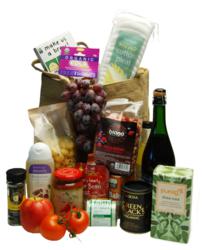 There was a 7% increase in organic mail order and home delivery across the UK in 2011.
(PRWEB UK) 7 August 2012
There are mixed results for the organic food industry as we approach Organic September 2012.
Organic sales in the UK fell by almost 4% in 2011 (1) – a contrast to the global organic market which has seen continued growth. However, with Organic September around the corner (a month of celebrating organic food in the UK) organic retailer, GoodnessDirect.co.uk, believes there are reasons to be optimistic.
A survey of arable land in July showed that farmer's used less land for organic farming last year, but interestingly there were both rises and falls in the rearing of organic livestock. (2)
Supermarkets also tightened their belts in the face of an economic downturn, preferring products which guarantee a good return.
Nonetheless, there are promising signs of buoyancy in the organic market.
What On Earth, makers of organic pizzas and desserts, reported that they had had one of their most successful years in operation back in January. (3)
Equally, the online health food store, GoodnessDirect, reports that business is good. Laurence Cooper, Buying Manager at GoodnessDirect confirmed, "Sales are definitely up and organic products are part of that growth."
This reflects the 7% increase in organic mail order and home delivery across the UK in 2011.
Perhaps it's best to take a long term view. After eight years of campaigning free range eggs are outselling those produced by caged hens. That includes organic eggs as well as free range or barn hen varieties. In 1995 86% of eggs came from battery hens whereas now 51 per cent of eggs are believed to come through a more humane source. (4) If the organic community continue to communicate the benefits of organic food to the consumer, then perhaps this indicates hope for the organic market.
Indeed, the young today are already more likely to shop organic than older generations. 26% of the shoppers from the 'Jamie Oliver generation' (those under 35) plan to buy organic food this year, which is double the proportion of over-35s who promise to do the same. (5)
Most promising of all however is the fact that demand for organic baby food has increased by 44% since 2006, with a 6.6% improvement last year. Surveys have found that 2 out of every 5 families would rather pay more for organic meals for an infant in their first year, and 1/3 of mums would willingly forgo a haircut or organic food themselves in order to feed it to their babies. (6)
And organic brands themselves continue to be as attractive as ever.
For example, Rude Health have made a name for themselves by making award winning organic cereals, and avoiding as much processing as possible as they do so. Camilla Barnard, co-founder of Rude Health, says, "Our granola is absolutely flying off the shelves."
Biona, an organic food brand, regularly create new foods such as their new dark chocolate spread or blueberry filled cookies. The Biona range includes hundreds of innovative foods designed to appeal to the organic consumer and constantly set new standards for what organic food might be.
And there's still the appeal to organic gardening with ideas like Aconbury's Organic Seed Sprouter kit. It's organic gardening on the kitchen window sill, and it appeals to the health conscious, offering a a wealth of nutritious sapling vegetables for salads, stir fries or soups.
At GoodnessDirect, the shopper can find all these and more with over 6000 products available to select and send straight to the customer's door. Despite lack of availability in supermarkets, 8 out of 10 households bought organic in 2011 and it is this commitment from customers to organic food which shows great promise for 2012.
--Ends
GoodnessDirect is the health and well-being haven with 1000s of foods available to be delivered to your door. We cater for customers of traditional foods, vegans and vegetarians, organic foodies, and those on a restricted diet such as gluten or dairy free. Our website features in-depth dietary information, so that you know exactly what you're getting, and we'll happily gift-wrap it for you to make a gift to your friends. Visit http://www.goodnessdirect.co.uk.
For more information or photos contact Tschaka Roussel-Milner
tschaka.roussel@goodnessdirect.co.uk
0871 871 6611
Sources.
1. fwi.co.uk/Articles/19/01/2012/131061/Organic-industry-told-to-become-less-elitist.htm
foodmanufacture.co.uk/Ingredients/Supermarkets-blamed-for-organic-market-slump
2. organic-market.info/web/News_in_brief/Statistics/UK/176/196/0/12868.html
3. freshbusinessthinking.com/news.php?NID=12116&Title=What+on+Earth%253F+London+organic+food+company+defies+downturn+with+50%2525+growth
4. dailymail.co.uk/news/article-2102905/Free-range-eggs-outsell-caged-hens-time.html
5. soilassociation.org/news/newsstory/articleid/2886/uk-jamie-oliver-generation-emerges-from-foodie-revolution
6. femalefirst.co.uk/parenting/baby+food+and+weaning+advice-247770.html
dailymail.co.uk/news/article-2060609/Organic-baby-food-boom-defies-recession-demand-soars-44.html
uk.lifestyle.yahoo.com/beverley-glock-rachel-allen-weaning-baby-food-organic-puree.html