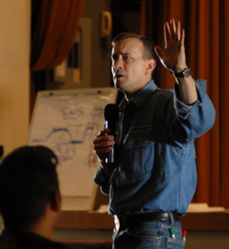 We must be ready in the malls, in the THEATERS, in the churches, and in our schools.
Jackson, WI (PRWEB) August 05, 2012
Lt. Col. Dave Grossman opened a seminar, sponsored by Delta Defense, LLC and given last year to a few hundred armed Americans by saying, "The kids who launched attacks at Jonesboro in the middle school, Columbine in the high school, and Virginia Tech in the college are going to give us hell in the workplace and domestic environment in the years to come."
He then continued, "We must be ready in the malls, in the THEATERS, in the churches, and in our schools."
It's not guns that cause these problems. Criminals and individuals that want to cause harm to others will find the guns and get them, no matter what the laws and regulations are.
The U. S. Concealed Carry Association (USCCA) offers help for those people, wanting to protect themselves and their families from dangerous encounters, such as the aforementioned tragedies in recent times. The USCCA teaches people to arm themselves legally and responsibly, and this seminar with Col. Grossman was part of that effort.
Col. Grossman also talked about how these killers are looking for an audience, and that the only thing they fear is failure. They prey on the innocent, unarmed members of society and all they're after is innocent lives.
He pleaded with us to watch the back of the guy next to us, to start covering the 6 o'clock of society.
"Watch My Back ... Cover My 6"
Col. Grossman called this the challenge of the age. He commissioned all of us that day to "Answer the summons of the trumpet, and the challenge of the day"... to protect and defend the innocent, unarmed men and women of our communities.
If we don't, then nobody will...
Because Col. Grossman's message couldn't be more timely and relevant, Tim Schmidt, USCCA founder and CEO of Delta Defense, LLC, is making the first 30 minutes of Col. Grossman's presentation available at the link below.
Schmidt encourages everyone to claim a copy of the seminar today and pass it along to everyone needing to know the truth about the threats we are facing today. Click here to watch these presentations.
About Delta Defense, LLC:
Delta Defense, LLC is devoted to armed citizens who have decided to conceal and carry guns or to those who desire to protect their homes and families. Delta Defense supports and educates its members via the United States Concealed Carry Association (USCCA) with a print magazine, an online membership site, a private members-only concealed carry forum on the web, and a nationally syndicated radio program—Armed American Radio. The Home Defense Association of America (HDAA) is devoted to home defense and family safety. The USCCA and the HDAA are 100% advertising-free, assuring members have access to completely unbiased gun, gear and course reviews.