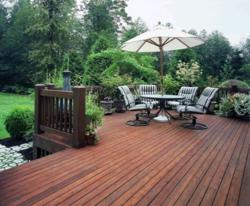 By following these simple and low-cost steps, your backyard can be ready for guests to enjoy throughout the rest of summer, during your Labor Day festivities and beyond.
Cleveland, OH (PRWEB) August 06, 2012
It's the time of year when we're seeing back-to-school advertisements and wondering how half of the summer has slipped away. By now you've finally accepted the realization that you won't get around to planting those tomatoes.
But there are a few quick and easy ways to spruce up your backyard and keep it looking great through the rest of the summer and into fall.
Maintaining a beautiful backyard can seem like a daunting task, but it doesn't have to be. Here are three steps to keep your backyard in tip-top shape, with less time and money than you might expect:
Stain Your Wooden Structures
Staining your exterior wood not only beautifies your landscape, but also helps extend the life of the structure. In order to keep a beautiful backyard, repair and stain your wooden deck, fence, siding, furniture or play set. Flood® wood care products make the wood stain process easy with an online project guide. You can reduce the time and money required for this project by planning ahead. Staining wood can be completed over the course of a few days to a week, depending on the size of the project, so schedule the time on your calendar.
Having a clear vision of what you want the project to look like when it's completed and creating a check list help reduce the number of trips to the store. In order to ensure you purchase the right amount of stain the first time, find a square footage calculator on http://www.flood.com before heading out to your retailer. This is a cost-effective way to maintain the longevity and value of your wooden structures. Flood wood care stain retails for around $18 to $35 per gallon, and for the average deck you'll need two to three gallons.
Keep Weeds Away
Nothing will ruin the aesthetic appeal of a backyard faster than weed growth. The most effective way to prevent weeds from invading your lawn is to make sure your grass is full and thick. In the short term, you may need to turn to alternative methods.
The Daily Green, from Goodhousekeeping.com, offers simple and environmentally friendly ways to rid your lawn of unwanted growth. Some tips include watering the weeds before pulling them, in order to soften the ground around them; scalding them with boiling water; covering them with newspaper; or pouring vinegar or salt on them.
If this is too big a chore, you may need to call in the professionals. Many lawn service companies offer discounts to family members or neighbors. Call your local service companies to see if they'll offer a discount to your group.
Add Color & Décor
Didn't have the time to nurture a bright and vibrant garden this spring? Then it's time to accessorize! There are other ways that color can be added to your backyard, in the form of outside furniture and cushions, awnings, bright lawn décor, patio dishes, tablecloths – and more. Many retailers take this time of year to clear out their inventory and make room for fall items. It may take a little time to shop around and find the best deals, but this is a low-maintenance way to ensure your backyard looks colorful throughout the season.
By following these simple and low-cost steps, your backyard can be ready for guests to enjoy throughout the rest of summer, during your Labor Day festivities and beyond.
About Flood® Wood Care Products
Founded in 1841 by a family of professional painters, the Flood® brand is a leader in specialty wood care coatings and paint additive solutions for the DIY consumers and the professional contractors. Ideal for fences, decks, siding, or any exterior wood surface, Flood finishes offer simple and easy solutions without compromising on quality. Available in home improvement centers, national retailers, independent paint dealers, and company-owned stores across North America. Flood is a brand of AkzoNobel, the world's largest paint and coatings company.
About AkzoNobel's North American Decorative Paints Business
Within its North American paints business, AkzoNobel produces a portfolio of well-respected brands, including Glidden®, Glidden Professional™, Dulux® Bétonel®, CIL®, Sico®, Ralph Lauren® and Devoe® paints; Flood®, Sikkens® and Synteko® wood care products; and LIQUID NAILS® adhesive and Mulco® adhesives and caulks. Products are sold through company-owned stores, national retail outlets, distributors and independent dealers throughout North America as well as exported internationally.