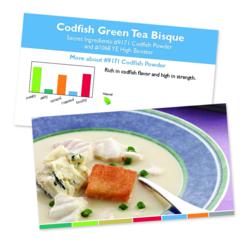 Branchburg, NJ (PRWEB) August 07, 2012
Demonstrating its passion for providing best-in-industry selection to the savory flavors sector, Savoury Systems International (SSI), flexed its culinary muscles and served up delicious savory dishes at the 2012 Institute of Food Technologists (IFT) Expo in Las Vegas, NV. Each dish showed off Savoury System's robust product line that includes a variety of yeast extracts, organic compliant products, salt replacers, and much more.
Visitors to booth No.739 spoke with flavor experts and developers and got to sample dishes such as Codfish Green Tea Bisque highlighting Savoury's #9171 Codfish Powder and #1068 Yeast Extract High Booster, Beef Short Rib Sliders using #0846 Red Meat Type Autolyzed Yeast Extract, Orange Chicken Shred with Rice using Savoury's new naturally fermented, oven dried soy sauce, and other dishes using chicken and beef flavors.
Savoury Systems also used the IFT show as an opportunity to announce the expansion of its seafood flavor offerings. Savoury has recently formed a relationship with SeaGarden, a leading global supplier of savory seafood ingredients. Currently in stock and ready to ship is the #9107 Arctic Fish flavor that is cooked and defatted to make any recipe taste like it's used fresh fish from the arctic.
For more information on Savoury Systems current product lines or requests for customized flavors, please visit: http://www.savourysystems.com.
About Savoury Systems International (SSI)
Savoury Systems International (SSI) has been a leader in the savory enhancement industry since 1997. Founded by Dave Adams, SSI is led by a team with over 100 years of collective experience and specializes in yeast extracts for savory flavor enhancement, and can formulate custom blends in its in-house laboratory. Based in Branchburg, N.J., strives to bring best-in-industry service and selection to the savory flavors sector.
# # #