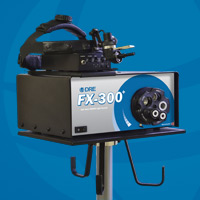 "We now offer one of the widest selections of medical and surgical headlights available anywhere."
Louisville, KY (PRWEB) August 03, 2012
DRE recently introduced its new line of high-quality, high-performance surgical headlights, all made in the U.S. This line of surgical headlights is engineered to provide unparalleled ultra-bright light for use across medical specialties and facilities.
These DRE headlights are true workhorses that are long lasting, comfortable to wear and provide bright illumination with minimal warm-up time, making them the best value on the market.
"We now offer one of the widest selections of medical and surgical headlights available anywhere,"
DRE marketing director Justin Jeffries said. "If you are a healthcare professional needing a specific type of headlight, we probably offer it."
With several options for configuration, any option from DRE's new line of light sources or head lights is ideal for any medical need.
"The line represents a true value. One of DRE's core principles is that we want to bring high quality products into the marketplace at a reasonable price," Jeffries said. "This line is a perfect fit. All of the headlights are American-made products that are built to last and perform at a very high level."
The line's premier option is the DRE FX-300+ Surgical Headlight System. This 300-watt white xenon light source is a flexible option for a wide variety of surgical and medical procedures because it can work with any number of surgical headlights. The rotating turret accepts cables made by ACMI, Wolf, Storz, Olympus and more.
Among the variety of headlights that can go with the FX-300+ is DRE's VideoFX Through-the-Lens Headlight Video System, which enables support teams in operating rooms to see what the surgeon sees throughout a procedure. This new DRE item is a great option for training and education.
Another brand new device to DRE is the FX-10 10-watt LED light source. At just 10 ounces, this source is highly portable, but is versatile enough to replace much more expensive endoscopy stacks when combined with other configurations. The FX-10 provides exceptionally bright light for 25,000 hours.
About DRE, Inc.
DRE is a premier medical and surgical equipment supplier that provides a combination of new and professionally refurbished or used medical equipment to industry professionals around the globe. DRE offers value to doctors by providing the features and reliability they need while still fitting within their budget.