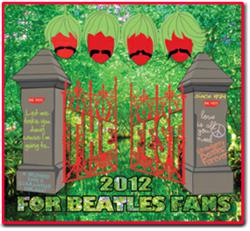 Los Angeles, CA (PRWEB) August 03, 2012
Beatles recording engineer for Magical Mystery Tour and The White Album, Ken Scott—and now author of the recent memoir Abbey Road to Ziggy Stardust (Alfred Music Publishing)—is this year's special invited guest at The Fest for Beatles Fans, to be held on August 10 – 12 at The Hyatt Regency O'Hare in Rosemont, Illinois.
Ken Scott, one of the five main recording engineers to work with The Beatles, is scheduled to share Abbey Road to Ziggy Stardust: The Talk, a unique story-telling event about his time working with The Beatles and, time permitting, many other legendary rock and jazz acts. The event will also include some very special play backs of never-before-heard breakdowns of classic Beatles songs.
Special book signing opportunities of his new book Abbey Road to Ziggy Stardust are scheduled throughout the three-day festival. The memoir, co-written with highly esteemed pro audio authority and author, Bobby Owsinski, chronicles Ken's amazing career working with The Fab Four and other iconic recording artists in music history, including David Bowie, Elton John, Pink Floyd, Jeff Beck, Lou Reed, and more.
Here is what Beatle authorities are saying about Abbey Road to Ziggy Stardust:
"Ken Scott's story takes you behind-the-scenes of legendary recording sessions. Unlike most hit producers/engineers, his career spans many decades, and the albums he recorded are often considered the artists' greatest work. Throughout the book, several of these artists chime in, adding perspective and credibility rarely found in autobiographies. A great read for music fans and studio types."
–Brian Kehew and Kevin Ryan, authors of Recording the Beatles
"Scott's wonderful and revealing stories and anecdotes answer many questions which this reader has often pondered, such as who actually played drums on 'Back in the USSR?' When Ringo took a sabbatical? Why the weird piano and phone ringing at the end of Bowie's 'Life on Mars?' Those and many wonderful insights litter the book, and I like the idea of listing the equipment and set-up details for the artists Scott worked with for those 'technos' for whom such details are of interest. I'm grateful to have been given the opportunity to read Abbey Road to Ziggy Stardust—this book has quenched some of my thirst for knowledge of the world of music and is fully recommended."
–Pete Dicks, host of Europe's longest running Beatles-themed show, Beatles and Beyond
The Beatles Fest, the original and longest running Beatles celebration since 1974, offers fest goers to meet special guests who were a part of The Beatles story. This year's festival commemorates the Beatles 50th anniversary of inception. Other distinguished guests scheduled to appear include notable professionals Freda Kelly (Beatles Fan Club Secretary from 1962 – 72), Tom Scott (horn player for George and Ringo), Rob Shanahan (Ringo's personal photographer), Liverpool (the world's finest Beatles tribute band), and many others. For information and tickets, call 1-866-THE FEST or visit thefest.com.
Abbey Road to Ziggy Stardust is now available for $24.99 at major book stores or music retail stores and at alfred.com. The memoir is also available digitally for iBook, Kindle, and Nook readers.
Co-authors of the book, Ken Scott and Bobby Owsinski, are available for interview. Press kit is available upon request. Learn more and watch the book trailer at alfred.com/AbbeytoZiggy.
ABOUT ALFRED MUSIC PUBLISHING
Alfred Music Publishing, the world's largest educational music publisher, produces educational, reference, pop and performance materials for teachers, students, professionals, and hobbyists. Learn more at http://www.alfred.com.